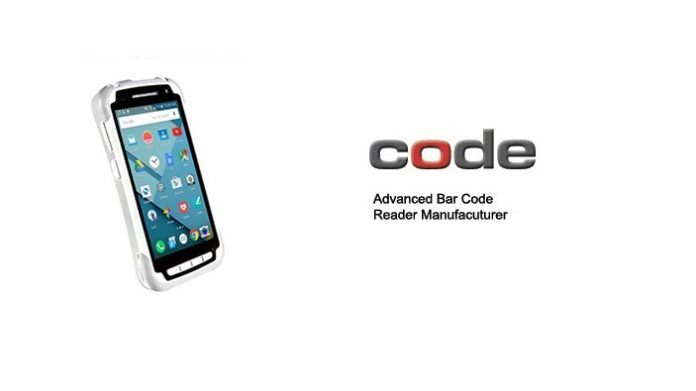 Code, a technology leader of image-based barcode readers, is set to launch its newest mobility reader, the CR4900, at HIMSS17.

The CR4900 marries Code's powerful barcode reading technology with the versatility of an Android operating system in a sleek, mini-tablet form factor.
"We've taken everything we've learned over the past 20 years from clinicians and built a tool specifically for their needs," says Code's President and CEO, George Powell. "Many other devices are adapted for use from other industries and applications, so they miss the mark when it comes to providing a true mobile solution for healthcare."
Small enough to fit in one hand, the CR4900 features a built-in barcode reader with superior 1D and 2D read performance through patented dual-field optical technology used in thousands of healthcare facilities around the world. The field-tested, fast roaming Wi-Fi platform provides uninterrupted voice communication, while the built-in Bluetooth 4.0 and NFC ensure the CR4900 easily interfaces with a multitude of devices and platforms to enable any workflow.
Code's partner, Procensis, has validated the CR4900 with their ProVoice-IP softphone client and is adding it to their solution portfolio to tackle the needs of healthcare barcode reading and mobile VoIP communication. As a provider of advanced mobile software and deployment/support services, Procensis has a thorough understanding of the mobility demands customers require, especially in highly concentrated areas like hospitals needing both voice and data. "Code has delivered a mobile solution with a great design and unique features that clinicians are going to love," says Ed Kennedy, President of Procensis. "We are speaking to a number of customers now about piloting the CR4900 with our softphone and push-to-talk application so they can experience healthcare technology convergence at its finest."
A bright, 5.0-inch touch screen lets users comfortably navigate mobile applications. The high-capacity, Quick-Swap battery keeps the unit powering through long shifts. Its unique and innovative Hot-Swap capability enables users to replace batteries without having to waste time logging out of their applications or placing the device in any special mode. The disinfectant-ready CodeShield® case protects it through frequent cleanings with the harshest chemical agents on the market.
Additional product features in the CR4900 include the Android 5.1 operating system and apps that put administrators in control. Buttons and dual-alert tri-color LEDs can be programmed to meet each facility's unique workflow needs. The CR4900 also comes with an SDK for custom app development. The shatter-proof Corning Gorilla Glass 3 screen survives drops and avoid scratches with full optical clarity for long shifts. An IP54 housing protects the CR4900 from water, dust, and cleaning products giving the CR4900 the durability to survive in the rugged healthcare environment.
The CR4900 takes healthcare enterprise mobility to the next level. See it in action at HIMSS17 in booth 1506 or learn more at www.codecorp.com.
About Code
Code is a technology leader in image-based barcode reading solutions. Code designs and manufactures a complete line of image-based barcode reading hardware and software solutions to enhance productivity and exceed customers' expectations for superior barcode reading performance, ergonomic design, equipment durability, and seamless integration with their operations. Servicing a diverse range of industries and environments, Code's products are used in critical applications in healthcare, public safety, manufacturing, transportation, retail, and a range of other diverse industries.
Code's 2D Revolution™ image processing and decoding solution is the de facto choice for enterprise-grade barcode scanning software technology that enables rapid, accurate decoding of virtually any barcode symbology, of virtually any quality and curvature – every time without fail. As the backbone of Code's product line and with the flexibility to integrate with any device, operating system, and application, 2D Revolution ensures you can reliably capture the barcode data you need, in the way you want, at the pace your business demands. 2D Revolution is the only decoder to support the proprietary GoCode® symbology which uses encryption to secure and prevent illicit reading of sensitive data.
Code's worldwide headquarters are located in Salt Lake City, USA, and has regional headquarters in China, Singapore and The Netherlands. For more information, visit www.codecorp.com
About Procensis
Procensis is a leading mobility and network design solutions provider focused on the latest network, device and convergence technology. Procensis helps hospitals achieve the most effective workflows for their caregivers, ultimately improving patient outcomes. Its collective experience in the design and deployment of integrated wired and wireless networks is unsurpassed. This expertise extends to the convergence of data, VoIP, and video, which is possible due to today's high-speed networks and to the convergence of technologies into multi-modal enterprise devices. Additionally Procensis can manage the entire lifecycle of enterprise mobility projects with their 24x7x365 managed services offering.
The ProVoice-IP ™ softphone client defines the next generation in mobility communications. It allows the user to speak and move throughout a healthcare facility untethered. The ProVoice-IP softphone is designed for the Cisco IP telephony environment and runs on the latest Android devices.
Headquartered in Doylestown, PA, Procensis can partner with healthcare organizations on networking and mobile technology unification projects both large and small. For more information visit www.procensis.com