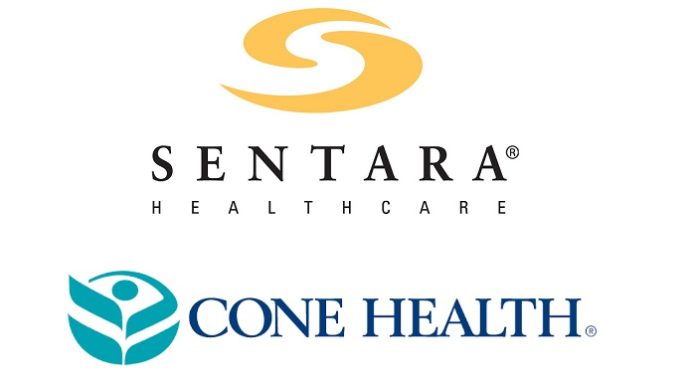 Cone Health has signed a letter of intent to merge with Norfolk, Virginia-based Sentara Healthcare. The merger will create a combined organization with a unique value-based approach that is focused on keeping people healthy and well, while providing high-quality, accessible and affordable health care in more ways and in more places. The Cone Health Board of Trustees voted unanimously to move forward with this letter of intent.
Cone Health, a not-for-profit integrated healthcare network consists of five hospitals in North Carolina. The system employs more than 13,000 people, including nearly more than 600 physicians and advanced practice providers, and operates more than 100 care sites. Its Medicare Advantage health plan, HealthTeam Advantage serves 15,000 members.
"Cone Health is among the highest-quality health care organizations in the nation, and we are financially strong. With the right partner, we can build on what we've created and do even more for those we are privileged to serve," says Terry Akin, CEO, Cone Health. "We have long said that Cone Health doesn't intend to grow simply for the sake of growth. Instead, we are partnering for inspiring possibilities."
Sentara Healthcare is an integrated, not-for-profit system comprised of 12 hospitals in Virginia and Northeastern North Carolina. The health system employs more than 1,200 physicians and advanced practice clinicians, 30,000 team members and operate hundreds of sites of care. Our Optima Health Plan and Virginia Premier Health Plan serve 858,000 members in Virginia, North Carolina and Ohio.
Merger Impact for Community
The resulting organization would have a combined $11B in assets, with Sentara representing about $8.7 billion in assets and Cone Health representing $2.8B in total assets, according to 2019 audited statements.
The communities served by Cone Health and Sentara do not overlap. As a result, the combined organization will ensure that consumers have more choices for healthcare and insurance plans, not fewer. The merger will deliver healthcare in more ways and more places with more options to pay for it.
"This rapidly changing healthcare environment requires tremendous transformation and innovation to ensure the long-term success of each respective health system and, most importantly, the very best for those we are privileged to serve," said Howard P. Kern, president and chief executive officer of Sentara Healthcare. "We can either react to change, or we can shape it. We are choosing to shape change and will lead this transformation of healthcare together."
Next Steps
Howard P. Kern will oversee the combined organization and the corporate headquarters will remain in Norfolk, Va., and Greensboro, N.C., will serve as the regional headquarters for the Cone Health division. Terry Akin will remain in Greensboro as the president of the Cone Health division. Cone Health representatives will join the Sentara Healthcare board, with membership on all board committees and meaningful roles in all aspects of governance. Additionally, there will continue to be a Cone Health Regional Board that will be composed of community members, medical staff and Sentara representation.
The combined organization is subject to state and federal regulatory review and customary closing conditions and is anticipated to close in mid-2021. Following that, it is expected to take up to two years to fully combine and integrate.