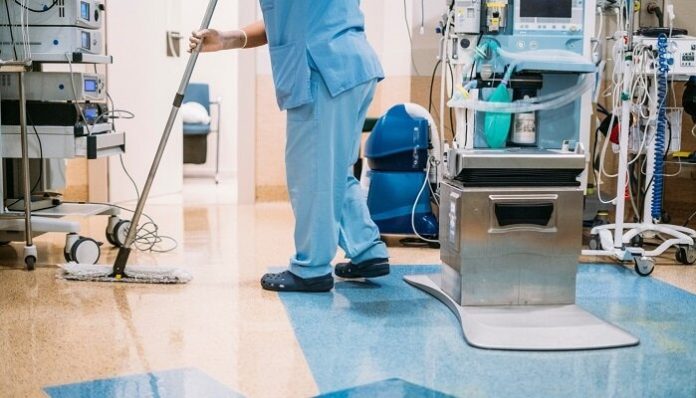 In healthcare environments, maintaining a high standard of cleanliness and disinfection is crucial to ensure patient safety and prevent the spread of infections. Thorough disinfection is vital in reducing healthcare-associated infections (HAIs), improving patient outcomes, and creating a safe environment for patients and healthcare workers.  
Because of this, it's essential to employ effective cleaning practices and utilize commercial disinfectant cleaning services. Doing so helps healthcare facilities enhance patient safety and promote a culture of cleanliness and hygiene.
The Importance Of Thorough Disinfection
Thorough disinfection in healthcare facilities is crucial for several reasons.
1. Prevent Healthcare-Associated Infections
HAIs pose a significant risk to patients and can result in increased morbidity, prolonged hospital stays, and mortality. Thorough disinfection plays a vital role in reducing the transmission of infectious agents within healthcare settings.  
Properly cleaning and disinfecting surfaces, medical equipment, and patient rooms may help prevent the spread of bacteria, viruses, and other pathogens in the facility. For example, regular disinfection of high-touch surfaces like doorknobs, bedrails, and handrails can effectively curb the transmission of pathogens and minimize the risk of HAIs.
2. Enhance Patient Outcomes
Effective disinfection practices directly impact patient outcomes. When healthcare facilities prioritize thorough disinfection, they create a safer environment for patients, minimizing their exposure to harmful pathogens. This, in turn, reduces the likelihood of infections, complications, and subsequent readmissions. 
With rigorous disinfection protocols, hospitals and clinics can significantly contribute to better patient outcomes, faster recovery times, and improved overall healthcare quality. Patients who receive care in clean and disinfected environments are more likely to experience positive health outcomes and have a reduced risk of developing healthcare-associated infections.
3. Boost Staff Confidence And Morale
Thorough disinfection practices benefit patients and instill confidence and peace of mind among healthcare staff. When healthcare workers know that their working environment is consistently cleaned and disinfected, they feel more secure in their workplace.   
This can lead to increased staff morale and satisfaction and improved overall productivity. Additionally, a clean and disinfected healthcare environment promotes a culture of safety and professionalism. This reinforces the commitment to patient care and well-being.
4. Meet Regulatory Standards And Compliance
Healthcare facilities must adhere to strict regulatory standards and cleanliness and infection control guidelines. Thorough disinfection practices are essential for meeting these standards and ensuring compliance with regulations. Implementing effective disinfection protocols and commercial disinfectant cleaning services may help healthcare facilities demonstrate their commitment to patient safety and fulfill their obligations to regulatory bodies.  
Ultimately, thorough disinfection in healthcare facilities is crucial for preventing healthcare-associated infections, enhancing patient outcomes, boosting staff confidence and morale, and meeting regulatory standards.  
By prioritizing thorough disinfection practices, healthcare facilities can create a safe and hygienic environment that promotes positive patient outcomes, reduces the risk of infections, and maintains high cleanliness and infection control standards.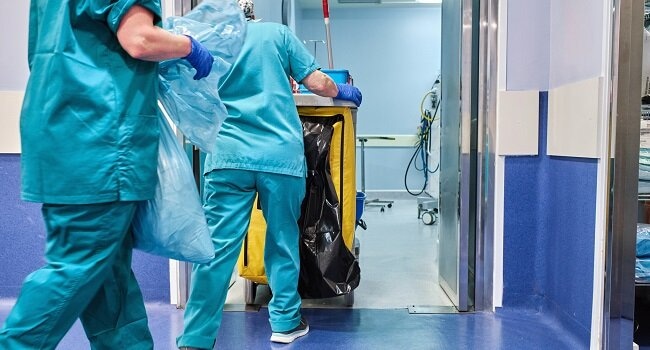 Best Practices For Thorough Disinfection
To achieve thorough disinfection in healthcare environments, it's essential to implement the following best practices.
Undergo Training And Education
Healthcare facilities must provide comprehensive training and education to their cleaning staff regarding proper disinfection techniques. This includes understanding the correct usage of commercial disinfectants, following manufacturer instructions, and identifying high-risk areas that require special attention. Well-trained cleaning personnel are better equipped to handle the challenges of maintaining a clean and disinfected environment, ensuring thorough disinfection becomes an ingrained practice. 
Developing and enforcing strict disinfection protocols is essential to maintain consistent cleanliness standards throughout healthcare settings. These protocols should encompass the frequency of disinfection, recommended disinfectant products, and proper techniques for each area or surface. 
For instance, in patient rooms, using an appropriate disinfectant on surfaces such as bedrails, bedside tables, and remote controls after each patient discharge can significantly reduce the risk of contamination.
Utilize Commercial Disinfectant Cleaning Services
Partnering with professional commercial disinfectant cleaning services can provide healthcare facilities with added expertise and resources. These specialized services have in-depth knowledge of effective disinfection practices and access to high-quality disinfectants. They can help healthcare settings develop customized cleaning plans, perform regular audits, and ensure thorough disinfection in even hard-to-reach areas. Collaborating with commercial disinfectant cleaning services can augment existing cleaning efforts and enhance patient safety.
Embrace Technological Advancements
In recent years, technological advancements have revolutionized disinfection practices in healthcare. For example, ultraviolet (UV) light disinfection systems have proven effective in killing bacteria and viruses on surfaces and in the air.  
Such innovations can be integrated into existing cleaning routines to complement manual disinfection processes. By incorporating these technologies, healthcare facilities can achieve a higher level of disinfection and further minimize the risk of HAIs.
Incorporating these best practices for thorough disinfection in healthcare environments ensures a proactive approach to cleanliness and hygiene, promoting patient safety and reducing the risk of healthcare-associated infections.
Conclusion
Thorough disinfection in healthcare environments is paramount to elevate patient safety and reduce the incidence of healthcare-associated infections. By implementing best practices, healthcare facilities can create an environment prioritizing cleanliness, hygiene, and patient well-being. Ultimately, the commitment to thorough disinfection contributes to better patient outcomes, increased confidence in healthcare services, and a healthier future for all.