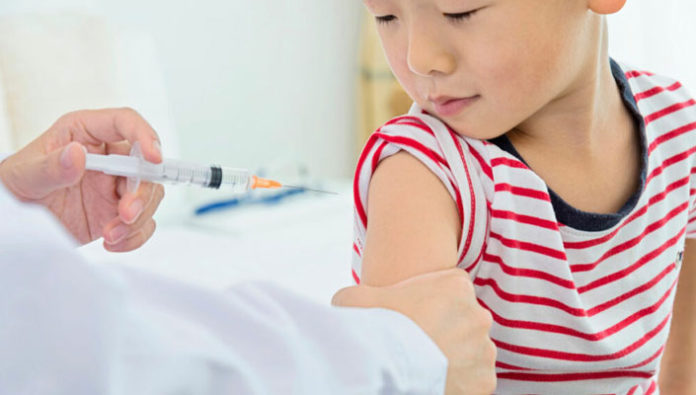 The first COVID-19 vaccines for newborns and preschoolers were approved by US regulators on Friday, June 17, paving the path for inoculation to begin this week.
The FDA took action after a consensus decision from its advisory council for the shots from Moderna and Pfizer. As a result, children under the age of 5 in the United States, i.e., nearly 18 million children, are qualified for vaccinations. The vaccine campaign in the United States began around 1 1/2 years ago with elderly adults, who were the hardest afflicted by the coronavirus pandemic.
And finally, it is for the Centers for Disease Control and Prevention to make recommendations on how vaccines should be used. On Friday, its independent advisors began discussing the 2-dose Moderna and 3-dose Pfizer vaccinations, with a decision expected a day later. Dr. Rochelle Walensky, the Director of the Centers for Disease Control and Prevention, is expected to give her final approval soon.
Walensky claimed during a Senate hearing on June 16 that her team was labouring over the Juneteenth federal holiday weekend since they appreciated the gravity of this for American parents.
COVID-19 has resulted in more kid deaths than the flu does each year, according to her.
She truly believes that they need to safeguard small children, as well as everyone else with the vaccine, and especially the elderly. Moderna's vaccines for school-aged children and teens were also approved by the FDA; the CDC will assess them this week. For those age groups, Pfizer's injections were the only option.
The Biden administration has been ready to send out the immunizations for small children for weeks, with millions of doses preordered by states as well as tribes, public health clinics, and pharmacies. Manufacturers can begin transporting vaccines throughout the country with the FDA's emergency use authorization. The shots will begin early this week, but it is unclear how popular they will be. Some families have postponed birthday celebrations, vacations, and visits with grandparents due to a lack of child protection.
In a statement, President Joe Biden said that today is a day of enormous peace for parents and families throughout America. Although young children may not get as sick with COVID-19 as older children and adults, their hospitalisation skyrocketed during the omicron wave, prompting FDA experts to conclude that the advantages of immunisation exceeded the minor risks. Moderna and Pfizer studies revealed that the majority of side effects, such as fever and exhaustion, were minimal.
Dr. Ashish Jha, the White House COVID-19 coordinator, projected that the pace of immunizations for children under the age of five would be far slower than for older groups, and that the government did not have any specific targets for immunisation rates. At the end of the day, Jha told The Associated Press, the goal is very clear- they want to get as many kids inoculated as possible.
According to the FDA, even the youngest children developed high levels of virus-fighting antibodies in tests, equivalent to what is seen in young adults. Moderna's vaccine was roughly 40% to 50% efficient at preventing infections, but Pfizer's study had too few cases to provide a credible, exact assessment of efficiency, as per the agency.
Both of these vaccines have been approved with science and safety at the forefront of issues, FDA vaccine chief Dr. Peter Marks said at a press conference. Parents should feel confident in any vaccine, according to Marks, and should get their kids immunised as quickly as possible, instead of delaying until the fall, when a different viral variety may be raging. He stated that vaccines would be modified to account for this.
He would give his child whichever vaccine the health care professional, or paediatrician, had, Marks added.
Although both brands use the same technology, there are some distinctions between them. The dose of Pfizer's vaccination for children under the age of five is one-tenth that of the adult dosage. There are three shots required: the first two must be given three weeks apart, and the third must be administered at least two months afterwards. For children under the age of six, Moderna requires two shots, each a fourth of the adult dose, given four weeks apart. The FDA also approved a third dose for children with immunological disorders that increase vulnerability to serious illness, given at least a month after the second shot.
Both immunizations are safe for babies as young as six months old. Moderna's next step is to test its vaccines on newborns as young as three months old. Pfizer has not finalised plans for vaccines for infants under the age of one year. Children under the age of five are already vaccinated with different brands in a dozen countries, including China.
As soon as she learned of the FDA's decision, Dr. Toma Omofoye, a Houston radiologist, arranged dates for her 4-year-old daughter and 3-year-old son as soon as she could. Her family has missed out on family functions, indoor performances, and even trips to the grocery store because of the shots, she added. Omofoye claimed her daughter gazed and wandered around like it was Disneyland during a recent drugstore visit, and thanked her.
Omofoye remarked that her heart was crushed in that instant, which is why her heart is so thrilled now. Will other parents, on the other hand, be as keen to get their children vaccinated? Three-quarters of all children in the United States have already been infected, according to some estimates. Since Pfizer's vaccines became available in November, just about 30% of youngsters aged 5 to 11 have gotten vaccinated.
Officials from the FDA acknowledged the low vaccination rates and stated that the government remains committed to vaccinating more older children and having greater success with younger children. It's a genuine shame, FDA Commissioner Robert Califf remarked, when one has something free with very few side effects that spares fatalities and hospitalisation. 
According to federal records, approximately 440 children under the age of five have died from COVID-19. The tot-sized immunizations, according to the University of Washington School of Medicine in Seattle's Dr. Beth Ebel, would be especially appreciated by kids in day care, where outbreaks sometimes force parents to leave their jobs, adding to the financial burden.
A lot of people will be delighted, and a lot of grandparents will be happy too, Ebel added, because they have missed those babies who did grow up when they were not able to see them.