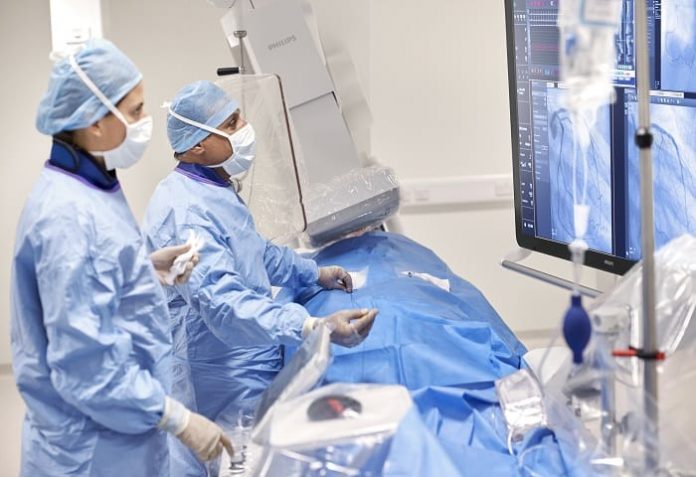 Royal Philips and HeartFlow, Inc. announced that they have entered into a collaboration agreement with the goal of improving access to diagnostic and planning tools for interventional cardiologists evaluating and treating patients with suspected coronary artery disease (CAD). Under the agreement, Philips will promote the use of the HeartFlow® FFRct Analysis in conjunction with Philips' advanced catheters for imaging and assessing measurements of the inside of a patient's coronary arteries. The advanced catheters from Philips that will be promoted in conjunction with HeartFlow's technology include Philips' coronary fractional flow reserve (FFR), instant wave-free ratio (iFR) and intravascular ultrasound (IVUS) solutions.

Philips and HeartFlow's commercial collaboration will initially focus on the United States, with the intention to expand joint efforts globally in the near term. The two companies are also exploring further collaborations in diagnostic imaging and advanced informatics.
First and only
The HeartFlow FFRct Analysis is the first and only commercially available non-invasive technology to provide insight into both the extent of CAD and the impact of the disease on blood flow to the heart. Data from a patient's non-invasive coronary CT angiogram are securely uploaded from the hospital's system to the cloud. HeartFlow leverages deep learning to create a personalized, digital 3D model of a patient's coronary arteries, which is then analyzed by powerful computer algorithms to evaluate millions of complex equations to simulate blood flow in the model and assess the impact of blockages on coronary blood flow. The HeartFlow FFRct Analysis technology provides results to the clinician via a secure web interface. To date, more than 13,000 patients have benefitted from the HeartFlow FFRct Analysis [1].
In the United States, 16.8 million people are affected by CAD, which develops when the coronary arteries narrow, reducing blood flow to the heart [2]. CAD causes chest pain and heart attack and can lead to death. As part of a standard protocol, many of these patients are referred to the cardiac cath-lab where more than half are discharged on medicines or non-treatment. Improvements in the non-invasive space have the potential to allow physicians to safely defer invasive testing, reducing risks to the patient and the overall cost of care for all.
"Our commitment is to transform the patient experience and identify pathways that are personalized, high quality and at a lower price point," said Christopher Barys, Business Leader of Philips Image Guided Therapy Devices. "To address the burden that CAD is placing on healthcare systems and to transform the patient experience, hospitals are focused on adopting new technology that can improve the diagnosis and care of these patients while reducing unnecessary invasive procedures. HeartFlow shares our mission of improving clinical outcomes and, through collaboration, we can advance our goal of helping healthcare providers decide, guide, treat and confirm the right therapy at the point of care."
Exclusive agreement to co-develop
In addition to the commercial collaboration agreement between Philips and HeartFlow, the two companies have entered into an exclusive agreement to co-develop an improved cath-lab x-ray image derived FFR or iFR solution, to significantly enhance workflow while improving the diagnosis and subsequent treatment of patients with CAD.
"Our collaboration agreement with Philips, which has an integrated solution within cath-labs, will help bring HeartFlow's technology to more patients with suspected and potentially life-threatening CAD," said John H. Stevens, M.D., President and Chief Executive Officer of HeartFlow. "We look forward to continuing to address unmet needs in cardiology in collaboration with Philips to further support our goal of improving patient lives and reducing the total cost of care."
Philips' seamlessly integrated solutions, such as CORE IVUS and SyncVision, are valuable tools in the diagnosis of CAD. The HeartFlow FFRct Analysis, is an additional diagnostic tool that expands clinicians' capabilities.