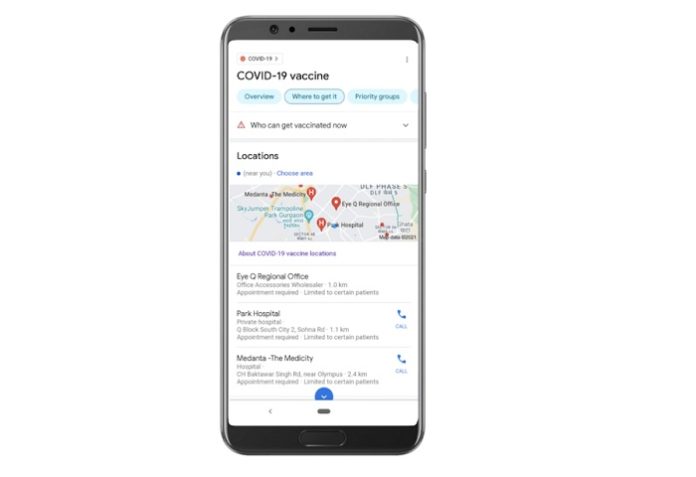 As India continues to see a surge in COVID-19 cases, big tech is looking to help people living in the country find vaccines, oxygen and accurate information.
This morning, Google announced new efforts in India focused on locating testing centers, hospital resources and vaccination sites.
The Silicon Valley giant worked with India's Ministry of Health and Family Welfare to show the locations of 23,000 vaccination centers nationwide, as well as 2,500 testing centers on Search and Maps.
Google is also piloting a new feature in India that lets people crowdshare the availability of hospital beds and medical oxygen.
"To help them find answers more easily, we're testing a new feature using the Q&A function in Maps that enables people to ask about and share local information on availability of beds and medical oxygen in select locations," authors of the Google blog wrote. "As this will be user-generated content and not provided by authorized sources, it may be required to verify the accuracy and freshness of the information before utilizing it."
Additionally, the company is rolling out programs to combat misinformation. Every time a user searches Google for vaccine information, the search engine will display information about vaccine safety, efficacy and side effects. It will also give users information about registering for the vaccine and connect to Co-Win, a site based in India that helps people sign up for the shots.
Google isn't the only FAANG company jumping in to provide COVID-19 resources to India. At the end of April, Facebook announced a partnership with the government of India to help roll out a Vaccine Finder tool.
Both Facebook and Google have provided money to India-focused COVID-19 relief funds. Facebook CEO Mark Zuckerberg announced a $10 million raise, and Google announced an internal donation campaign, which has raised over $4.6 million in relief efforts.
The number of COVID-19 cases in India has skyrocketed since March. According to the Johns Hopkins tracker, 246,116 people in India have died of the virus. The seven-day average of new coronavirus cases in India is roughly 391,000, according to the JHU tracker.
The vaccine is beginning to roll out in India; however, only a small percentage of the population has had the shot. According to Our World in Data, the most recent data indicates that 9.8% of the Indian population has had one dose or more, and 2.5% are fully vaccinated.
Large tech companies have teamed up with public health organizations to spread the word about coronavirus for some time. In January, Google added a feature to help users find COVID-19 vaccination sites in the U.S. Shortly after this, Facebook and Apple connected to the same finder.
In April, YouTube, owned by Google, teamed up with health organizations on a public service announcement that features talks between celebrities and health experts, such as White House Chief Medical Advisor Dr. Anthony Fauci.
Earlier on in the pandemic, Google teamed up with Apple on an exposure notification API to help with contact-tracing efforts.