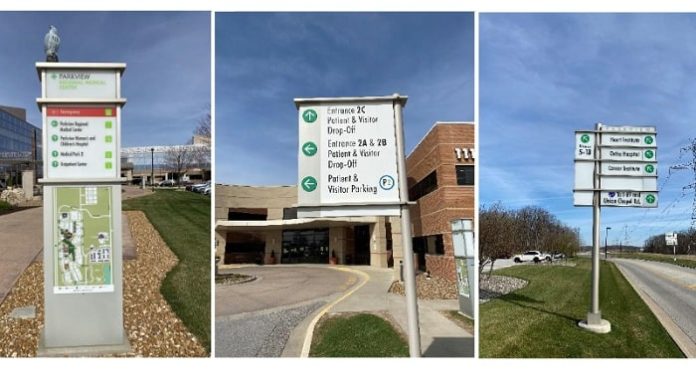 Medical centers can be confusing places for infrequent visitors and so healthcare campus planning that carefully considers the placement of roadways, parking facilities, doorways, and signage, are all important to helping users gain access with the least amount of hassle possible. Regular users, including hospital and medical office building employees and physicians, are often competing for the same parking spaces intended for visitors and patients and so it is also important to have strategies to keep the visitor and patient spaces available for those groups.
Every hospital should have a thoughtful campus access, circulation, and parking plan. Such a plan includes the following key factors in developing an overall comprehensive plan of vehicle and pedestrian traffic flow and control for an urban campus.
Key Factors:
Perform parking needs analysis so that we know what parking requirements are for various user groups including physicians, employees, patients, and visitors. Segment patient and visitor parking by IP, OP, and ER. Provide separate analysis for MOB space. Include needs for both an existing conditions design day and a future conditions design
Identify entries and exits and physical distribution of healthcare activities such as ER, IP, OP, MOB,
Identify parking locations and quantities available to various user groups and assess pedestrian walkways that connect parking to the entries/exits. Provide for reasonable walking distances and appropriate numbers and locations of accessible parking.
Evaluate adequacy of parking by user group, by location, relative to reasonable accessibility for each entry/exit.
Review and plan for access for those with mobility impairments consistent with ADA, state, and local accessibility legal requirements.
Plan for electric vehicle charging stations. Identify power requirements, locations, and quantities for this equipment.
Review the quality of the pedestrian connectors and recommend potential
Review of roadway and loading capacities and vehicular circulation and identification of opportunities for improvements.
Review and comment on the adequacy of maps, exterior signage, and wayfinding pertinent to the adjacent roadways and parking
Pedestrian circulation and access needs vary on a hospital campus depending on the user group. For example, visitor and patient needs differ from those of staff and physicians. Parking access for patients and visitors needs to be near building entrances proximate to hospital destinations. When this is not easily achievable, drop-off and pick-up locations are desirable. At these locations, shelter is preferred to keep the patients out of the elements. Flat surfaces without curbs are also desired, so trip and fall hazards are minimized. The size of the loading zone should also be appropriate to accommodate the high-volume periods in the day, such as patient discharge. Adequate signage is necessary for drivers entering the campus so they can identify the patient and visitor parking areas. Since physicians and staff may park further from the entrances than patients, they desire convenient access in and out of the campus. To understand the needs of the various users of the hospital, an origin and destination plan is one of the first steps in the process. This helps in determining where existing gaps may be located between destinations.
During several recent circulation and access plans completed for two Michigan hospitals, there was the need to improve patient and visitor access. At several of their campuses, long queues developed as a result of inadequate loading zones and wayfinding. Our analysis considered the primary vehicle routes upon entering the campus. Patient routes were prioritized. At one campus, the drop-off area was deemed to be undersized. The analysis identified one additional drop-off lane, and one bypass lane was necessary to support the peak demands. This was coupled with relocating the drop-off area for staff to another more convenient side of campus. At another campus, the solutions focused on addressing the lack of vehicle wayfinding for patients to locate parking facilities.
As part of a parking master plan for a Colorado teaching hospital, it was determined that vehicle access was prioritized over pedestrian access at one of the major pedestrian crossing locations. During discussions with hospital leadership, we learned of several safety concerns for this particular pedestrian crossing. Further analysis identified the need to prioritize pedestrians crossing over vehicles. After evaluating several options, crosswalk improvements and traffic rerouting allowed for a safer crossing of pedestrians at the intersection.
On a third project delivered in New England, there were traffic congestion issues in the district which delayed emergency vehicles and also pedestrian/vehicle conflicts. Implemented solutions included increased remote parking, shuttles to transit stations, transportation demand management to encourage transit/bike/walking, higher prices for onsite parking, individualized assistance/guidance for commuters, and bike lanes. Alternatives considered but not recommended or selected included widening area roadways and/or adding onsite parking due to expense, lack of space, and the desire not to induce more vehicle demand and also the addition of pedestrian bridges due to desire to maintain street activity
Parkview Regional Medical Center in Fort Wayne is rapidly growing healthcare provider that Walker has served repeatedly over the past two decades. Its flagship campus located off of I-69 sprawls and contains more than 4,000 parking spaces, a significant majority of which are surface parking lots. The exterior signage and wayfinding program is an excellent example of the communications necessary to help motorists find their parking area and ultimate hospital destination.
Also, an excellent map can be found here: http://lab.parkview.com/TestDirectoryFiles/PRMC%20Campus%20Map.pdf
WHY PLAN?
Right-sizing parking is important. With surface parking costs running $5,000 per parking space and parking structure costs running $25,000 or more per space, we want to get the parking capacity right and not overbuild parking that is not needed.
We not only need sufficient numbers of parking spaces, but we need them in the right places so that pedestrians are not frustrated by unreasonably long walks. Those with mobility impairments have additional special needs and limitations.
Signage, maps, and entries that are clearly marked help users quickly find where they want to go and minimize frustration during the wayfinding process.
Written by John Dorsett, AICP; Greg Strangeways, AICP; and Andrew Vidor of Walker Consultants