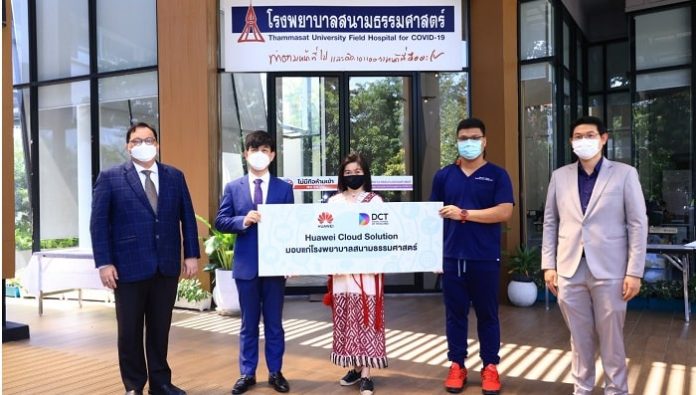 Mr. Xu Cheng, Director of Public Affairs and Communications Department, Huawei Technologies (Thailand) Co., Ltd, (2nd left), Mr. Sumet Tangprasert (far left) Director of DCT, and Miss Onmadee Purapati (3rd left), Director and Public Relations of Digital Council of Thailand, donate HUAWEI CLOUD solution to Thammasat Field Hospital, led by Mr. Watchara Amasiri, Engineering Faculty Instructor, Thammasat University (2nd right), and Dr. Thanyaporn Soontornthum, (far right) Vice-Director, Student Affairs Division, Thammasat University, to help strengthen handling of the COVID-19 pandemic for medical personnel with technology.
Huawei Technologies (Thailand) Co., Ltd. and Digital Council of Thailand (DCT) on 22 June 2021 donated a CLOUD solution to Thammasat Field Hospital, to help strengthen the efficiency of handling the COVID-19 pandemic and build a prototype for the field hospital of the future. By utilising CLOUD Technology from Huawei, medical staff will be able to access medical records much faster, transfer medical information through hi-speed network, as well as access Huawei support 24/7.
Since the Digital Council of Thailand announced in April 2021 the collaboration with the Medical Council of Thailand and an alliance of 49 technology organisations to develop a smart solution in order to help ease the burden for medical personnel at field hospitals across Thailand, Huawei Technologies (Thailand) Co., Ltd. joined hands with the Digital Council of Thailand to donate Cloud services to Thammasat Field Hospital. The Cloud services include Virtual Private Cloud for creating internal private use of Cloud services among medical personnel at the field hospital, Private Cloud Server to support medical personnel usage at the field hospital, high performance data storage with 4000 GB capacity, and network connectivity and data transfer with 8192.0 GB capacity for one year. In addition, this Cloud Technology will be able to increase the efficiency and stability of medical data transfer.
Mr. Abel Deng, CEO of Huawei Technologies Thailand said that, "HUAWEI CLOUD technology will be able to help enhance the efficiency of Thailand's healthcare sector by improving data privacy and business continuity as well as the flexibility and scalability for accessing any information. This Technology will help support medical personnel at the Thammasat Field Hospital by accessing or sharing medical records at a much faster rate, with the ability to transfer medical data over a high-speed network as well as receive support from the HUAWEI support team 24/7. Furthermore, Huawei has a Domestic Public Cloud service in Thailand that enables our CLOUD services to perform flexibly, safely, with high efficiency and low latency."
He added that the new cooperation with DCT is in alignment with Huawei's commitment to "Grow in Thailand, Contribute to Thailand", as a technology-leading ICT partner and proactive digital transformation enabler, especially amid such challenging times as the ongoing spread of the pandemic. Huawei will stand firmly with Thailand and transform the ongoing crisis into a new opportunity, by utilising digital technology, including to Cloud, AI, and 5G, to tackle challenges in the public health and other sectors. Finally, HUAWEI would like to thank the Digital Council of Thailand, The Medical Council of Thailand, and Thammasat Field Hospital for providing an opportunity for HUAWEI to fulfil its commitment to contribute to Thailand.
"We would like to thank our partner, Huawei Thailand, for supporting Thammasat Field Hospital with the CLOUD technology and providing the consultation to the doctors and medical personnel which is beneficial for medical operations and activities, both in the Thammasat Field Hospital and the Thammasat vaccination centre amid the ongoing spread of COVID-19. Mr. Suphachai Chearavanont, Chairman of Digital Council of Thailand, said the Medical Council aims to continue to partner with organisations that can support the Council and medical teams in bringing the telecommunication infrastructure system and several digital technology solutions to field hospitals, including Chulalongkorn, Air Force, Don Mueang, and Thammasat for launching more prototype field hospitals in the near future," Miss Onmadee Purapati, Director and Public Relations of Digital Council of Thailand, and Mr. Sumet Tangprasert, Director of Digital Council of Thailand, said in a joint statement.
As Huawei Thailand is a leading technology company and a trusted ICT partner in Thailand, having operated in the country for more than 22 years, HUAWEI has been a consistently a proactive digital transformation enabler that strives to contribute to social value in Thailand in the new normal. In May, Huawei Thailand provided an AI-assisted diagnostic solution, 5G telemedicine, InPatient area Intelligent Management, and eLTE broadband trunking to Bang Khun Thien Field Hospital in Bangkok. This follows other contributions to the healthcare system in Thailand in 2020. For example, Huawei delivered seven sets of Huawei Telemedicine Video Conferencing Solution, worth 10 million Thai baht, to the Department of Disease Control and hospitals in Thailand. Additionally, Huawei provided an AI-assisted solution to Ramathibodi Hospital and Siriraj Hospital, technology which operates based on Huawei CLOUD and 5G, helping doctors analyse CT quantification results of cases of infection with high accuracy.