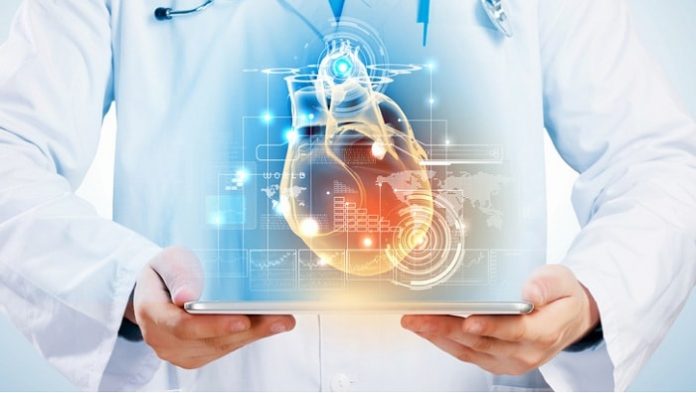 iMedrix, a Silicon Valley and Bangalore-based mHealth start-up, announced the general availability of its product KardioScreen, a CE certified mobile/portable hospital grade digital ECG.
KardioScreen is the first truly mobile, connected ECG solution that can be applied universally: field screening, point of care, ambulance, Cardiac ICU and at-home monitoring. The patent-pending KardioScreen solution comprises of a hospital grade mobile ECG device and mobility software suite of AI assisted solutions for doctors, ambulances and hospitals. KardioScreen can be used in both, snapshot short term ECG (30s) and extended observation/monitoring modes in 6 or 12 lead configuration.
KardioScreen is being used at a number of leading hospitals in Asia in a variety of use cases. An ECG taken from KardioScreen can be analyzed by a live/remote physician and AI engines in seconds. Further, the simple, deskilled use model and ability to record ECGs quickly, has been a major factor in the adoption of this solution for population screening.
Multiple layers of algorithmic and analytics solutions are added to KardioScreen to help physicians with actionable insights. This also enables a truly mobile, digital health architecture where third party devices and applications can fit in, acting as a base for Software as a Medical Device applications.
"We are pleased to introduce the world's first end-to-end connected solution that brings mobility to cardiac care," said Srikanth Jadcherla, CEO of iMedrix, "KardioScreen brings a deep IoT architecture to clinical use."
"Cardiac diseases are at epidemic levels and burgeoning with every year. Early detection and prevention is the need of the hour. In this context, mobile medical solutions such as iMedrix's KardioScreen could help patients get screened or monitored anywhere, in an affordable manner. 100s of millions of people will benefit from such mobile cardiac screenings, saving many lives by timely intervention. In the process, we are bound to learn a lot and gain new insights," said Dr. Nagraj Desai, Distinguished Cardiologist.
KardioScreen is offered on subscription basis in Asia. With the obtainment of CE certification, iMedrix is now looking to enter markets in Europe.
About iMedrix
iMedrix is a Mobile Health (mHealth) start-up based in Silicon Valley and Bangalore. iMedrix is developing IoT mobile Health solutions starting with mobile cardiology.
For more information, visit: http://www.imedrix.com
Media Contact:
Nagesh Rangappan
CTO
+91-9611103647
nagesh.r@imedrix.com
Srikanth Jadcherla (Sree)
CEO
+1-408-637-1881
srikanth.j@imedrix.com