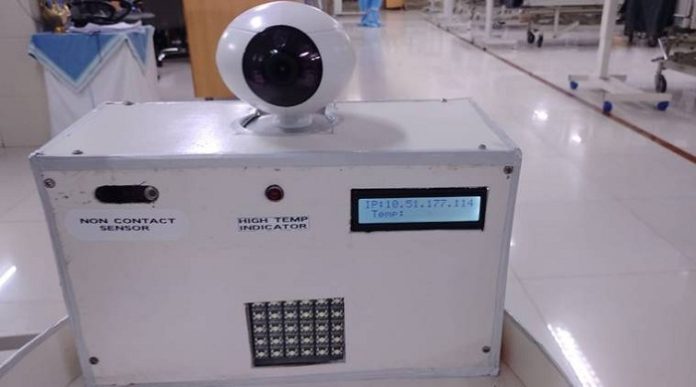 South Central Railway (SCR) in India has developed a robotic device, called Rail-Bot (R-BOT) to aid in hospital management associated with patient care amid the Covid-19 pandemic.
Following extensive trails and demonstration, the R-BOT has been deployed for use at Central Railway Hospital in Lallaguda, Secunderabad. It is being used to supply medicines, medical accessories and to serve food to the patients.
This is expected to mitigate physical contact and reduce the risk of exposure for the doctors, nurses and other support medical staff.
The R-BOT can be run using a new mobile application supported by Wi-Fi facility and radio frequency (RF) remote controller.
In a statement, SCR said: "The Innovation, developed by Shri Hem Singh Banoth, additional divisional railway manager, Hyderabad division, SCR and his team, has come in for praise from the Zone's head, Shri Gajanan Mallya, General Manager, SCR.
"Shri Mallya, termed it as a good attainment to strengthen medical care management, particularly in the prevailing Covid -19 Pandemic Virus situation."
The R-BOT is equipped with sensor based features to record the patients' body temperature and transmit the reading to the mobile phone. It can alert medics in case of abnormally high temperature readings.
It also has real-time video camera with pan and tilt functions, with two way audio and video communication as well as recording, to enable interaction between patients and doctors.
The robotic device leverages infra-red technology to facilitate communication even in darkness. It features eight direction motion control and observation avoidance sensors along with motion detection to avoid any foreign object in its way.
SCR plans to further innovate and develop the robotic device for optimal functional efficiency and enable broader use at medical facilities.