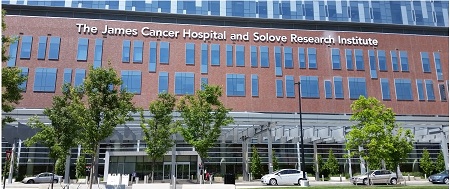 The Ohio State University Comprehensive Cancer Center – James Cancer Hospital and Solove Research Institute (OSUCCC – James) has been named a 2016 Guardian of Excellence Award winner. The honor recognizes healthcare organizations that rank in the 95th percentile for patient care experience.
In 2014 the Columbus, Ohio, hospital moved into a new HOK-designed facility. The 1.1 million-sq.-ft., 306-bed freestanding cancer hospital brings together clinical care, research and education in a highly sub-specialized care model. In addition to providing patients with highly specialized oncology—including one of the nation's few cancer emergency departments—the James Cancer Center Hospital features details intended to improve the well-being of patients, families and staff.
Natural light is a key design feature throughout the hospital. An above-ground radiation oncology center with seven treatment vaults is located on the hospital's second floor, providing access to natural light and views overlooking a park. Patient rooms also feature large windows with expansive views.
"We know that families want to be with their loved one during difficult times, and that's why we make it as comfortable as possible for our guests," said Renee Jones, the hospital's director of patient experience, in discussing the 2016 Guardian of Excellence Award. "We have flexible visitation, shower facilities, laundry facilities, and a Patient and Family Resource Center where families can go to research health information or just relax and take a break."
Other design features intended to enhance the patient care experience include Wi-Fi capabilities, visitor lounges on each floor, and outdoor cafés and terrace gardens on the 14th floor, where plantings include vegetables with cancer-preventive properties.