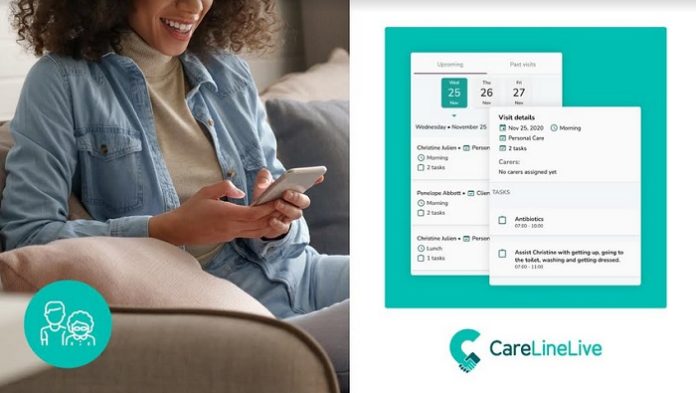 CareLineLive, the homecare management software provider, announces that Surrey-based agency Lavender Care has selected CareLineLive to support its carers and streamline its business operations. CareLineLive is providing Lavender Care with an innovative, easy to use, cloud-based homecare management system, to increase efficiency, digitise processes and ultimately improve client care.
With the Care Quality Commission highlighting the increased importance of improvement through technology, Lavender Care has chosen CareLineLive due to its ability to meet a comprehensive range of client needs, with a user-friendly interface to help the team with rostering and eliminate the need for paper-based processes. CareLineLive's cloud-based homecare management software can be accessed anywhere and anytime, from any internet-enabled device.
As well as quick rostering, deploying CareLineLive has enabled the families of Lavender Care's clients to benefit from CareLineLive's 'Family Portal', which provides real-time updates about their loved one's care. This capability completes the 'circle of care', with family and friends kept in the loop on changes to medication, notes and details of their visits.
Faiza Swaleh, Director, Lavender Care Agency commented: "Before we adopted CareLineLive, our existing system meant that we still had to email rotas out, which was time-consuming and laborious. Now that CareLineLive is in place, we've noticed huge benefits in the way our carers work, as they're no longer reliant on paper-based processes. What's great about CareLineLive is that it's compatible on all devices too, I'd highly recommend it to other agencies that are looking to provide more support to their carers and clients."
Josh Hough, Founder and MD at CareLineLive added: "The pandemic has been a catalyst for the adoption of technology in the homecare sector. A recent survey of homecare managers showed that 73% agreed that technology had helped their businesses and carers during the pandemic. We're proud to be supporting Lavender Care in updating its existing processes, increasing efficiency and improving their carer and client satisfaction. We look forward to the continued positive impact of digitisation on the company and its clients over the coming months."
-END-
About CareLineLive
CareLineLive is an all-in-one, purpose-built home care management system for domiciliary care agencies to manage the 'circle of care'. The company was set up by Josh Hough in 2014 after being frustrated at the lack of access to his Grandfather's care. Working closely with a number of home care agencies, CareLineLive has used the latest technology to develop for agency owners and managers an innovative, easy to use, cloud-based homecare management system. Its award-winning platform leads to increased efficiency, capacity and compliance through digitising workflows, automating procedures, increasing revenue opportunities and decreasing overheads. CareLineLive completes the 'circle of care' and gives agencies and carers 'more time to care' and is operating throughout the UK, Ireland, Jersey and now Australia.