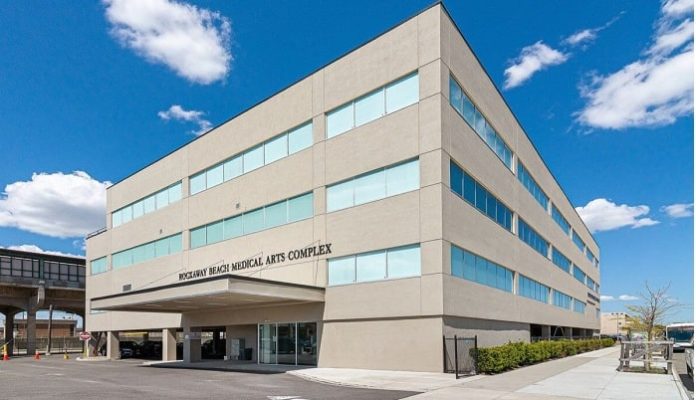 Local officials and executives from Episcopal Health Services joined CHA Partners yesterday to celebrate the grand opening of the Margaret O. Carpenter Women's Health Center, the first-of-its-kind speciality medical facility at 105-20 Rockaway Beach Boulevard. The state-of-the-art facility, part of the new Rockaway Beach Medical Arts Complex, offers top-quality medical care in a modern setting to a medically underserved area in Rockaway Beach.
"Since our inception, CHA has remained focused on filling the void for medical and healthcare services where they are needed most, and the opening of the Margaret O. Carpenter Women's Health Center will mark a new day for patients in the Rockaway Beach region," said CHA's Managing Partner William J. Colgan. "We are thrilled to stand alongside executives from St. John's and all of the key stakeholders who made the completion of this project and opening of this facility a reality."
The Margaret O. Carpenter Women's Health Center will provide gynecological and obstetrical care with a wide array of women's healthcare sub-specialty services in one location including: Maternal Fetal Medicine, Urogynecology, Gynecology Oncology, Breast Surgery, Nutrition and Behavioral Health. State-of-the-art equipment including two 3D mammography machines, a bone density machine and ultrasound machine will also be available to the community.
"The goal for the Women's Health Center is to improve and maintain the health of women to prevent a decline in health and the need to be hospitalized in the future," said Jerry Walsh, Chief Executive Officer of Episcopal Health Services. "The lack of accessibility to healthcare services is evident in the fact that the Rockaway community sees a higher rate of pregnant women who seek late or no prenatal care when compared to the overall New York City rate. By creating this Women's Center in the community, we are improving access to women's health services in Rockaway."
The Rockaway Beach Medical Arts Complex, which was completed in 2019 and reached full occupancy in June 2021, reintroduces best-in-class, community-based healthcare services to this Queens neighborhood. With a wide range of on-site services, Rockaway residents will now have access to a wide range of healthcare services other than the Women's Center, including primary care, dermatology, endocrinology, physical therapy, behavioral health, cardiology, neurology, general surgery and cancer care.
CHA Partners conceived of the Rockaway Beach Medical Arts Complex to meet the incredible demand for local healthcare created when the region's Peninsula Hospital closed after Hurricane Sandy in 2012. NYCEDC helped support the project with $9 million New Markets Tax Credit (NMTC) financing in collaboration with Chase Community Development Bank. The NMTC program is a federal funding program designed to encourage investment in underserved areas of the City.
"This is an important milestone in Rockaway's recovery from COVID-19, as we advance Mayor Adams' commitment to providing community healthcare in neighborhoods most impacted by the pandemic," said New York City Economic Development Corporation President and CEO Andrew Kimball. "NYCEDC is proud to have supported the development of the Rockaway Beach Medical Arts Complex, which will house the Margaret O. Carpenter Women's Health Center and offer lifesaving, affordable preventative care to Rockaway residents."
"We'd like to extend a special thank you to the NYCEDC for sharing in our vision for this project and providing the tax incentives that led to the opening of this facility, which will serve the community for many years to come, " said Kobi S. Leifer, partner at CHA Partners.
Additional tenants at the Rockaway Beach Medical Arts Complex include MercyFirst Children and Family Care and the Ambulatory Surgery Center of Rockaway Beach. The medical center will provide healthcare services for approximately 5,000 community members annually. For more information on the Margaret O. Carpenter Women's Health Center, please visit: https://ehs.org/RockawayWomensHealth.
About CHA Partners
CHA Partners is the Tristate area's most dependable real estate development partner. A vertically integrated, full-service company, CHA specializes in imaginative public-private partnerships that enable municipalities to unlock property value, create jobs, increase tax ratables, and deliver spaces that accurately reflect the needs of the community. With deep roots in both the healthcare and real estate industries, the company's diverse team of professionals has overseen design, development, construction, operations, leasing, government affairs, environmental remediation, property management, leasing and accounting for some of the most complex development, redevelopment and adaptive reuse projects in the region.
About St. John's Episcopal Hospital
St. John's Episcopal Hospital is the only hospital providing emergency, inpatient, and ambulatory care to the densely populated, culturally and economically diverse, and medically underserved populations of the Rockaways and Five Towns in southern Queens County and southwestern Nassau County, New York. Celebrating over 110 years of community care, the 257-bed facility provides people of all faiths with comprehensive preventive, diagnostic, treatment and rehabilitative services, regardless of ability to pay.