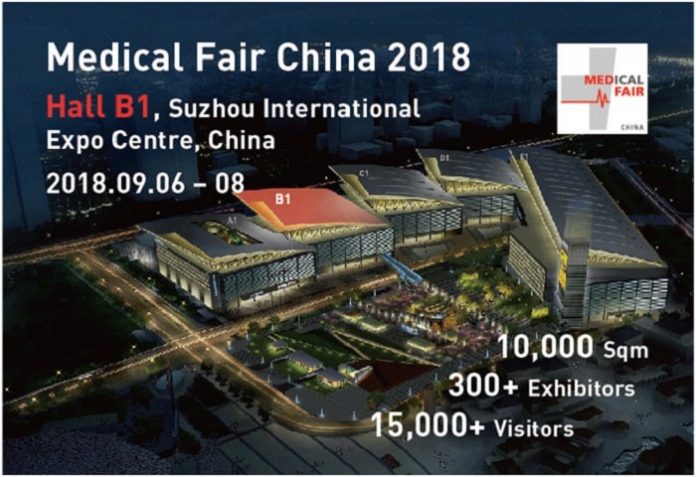 Medical Fair China 2018 (MFC) will be held on 6-8 September, 2018 in Suzhou together with the grand launch of the Global Device Week. MFC will be covering a total area of 15,000 square meters and is expected to attract more than 300 exhibitors and over 15,000 visitors, making this an not-to-be-missed event. The organizers announce that the Online Visitor Registration is now officially open.
Visit www.medicalfair.cn for your online pre-registration. You will receive a confirmation letter upon registration as well as the latest industry news.
The organizers offer multiple benefits for pre-registered visitors:
Free Access to the 4-day-Forumsstaged under the Global Device Week(value of 1,699 RMB)
Free Souvenir(First come first served basis)
Free Catalogue(Value of100 RMB, first come first served)
Free Tea-Break
Fast Entry
The only satellite exhibition of MEDICA in China
Medical Fair China is jointly hosted by Messe Düsseldorf (Shanghai) Co., Ltd. and the China Service Alliance of Medical Devices Innovation. It is the only satellite exhibition of MEDICA in China and is also a member of MEDICAlliance, the world's largest medical device exhibition series. MFC receives strong and full support from MEDICAlliance. It will display a wide range of latest medical equipment and innovative technologies in the world, while offering global perspectives, expert insights and market information to lead innovation in China's medical sector.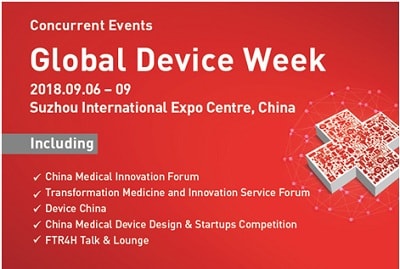 The full industry chain for medical device innovation on display
The product categories will include medical digital imaging products, optical and electronic products, in vitro diagnostic products, minimally invasive instruments, implantable and interventional medical devices, operating room equipment, laboratory equipment, new medical consumables, first aid and care products, rehabilitation devices and equipment, home medical equipment, smart medical products, medical equipment raw materials, components, accessories and software products.
In addition to showcasing innovative products as well as latest registered products, MFC also sets up a business area for innovation service organizations, an area for research institutes and medical institutions to present transformation outcome and to discuss cooperation, an exhibition area for suppliers of upstream materials and accessories, as well as an area to showcase various medical parks and policies. MDC establishes a platform for direct exchange of interested parties. Exhibitors that have confirmed participation include:
Companies in production, R&D and innovative services:
Shanghai MicroPort, Shenzhen Mindray, Lifetech, Medtronic, Cook, Siemens, Frankeman, WuXiAppTec, Hualian Meide, HuanqiuLikang, LivzonCynvenio, 3nod, Sanwe, Contec Medical, Diascie Technology, Wealy Medical Instrument, Peijia Medical Technology, MID-LINK TESTING CO,.LTD., Suzhou Medsure, Shaanxi Jugao-am Technology Development Co., Ltd., Jiangsu Dejian Medical Technology Co., Ltd., Beijing ZhongzhiHenghui Pharmaceutical Technology Co., Ltd., Beijing Mokobio Life Science Co., Ltd., and Koning (Tianjin) Medical Equipment Co., Ltd. etc.
Alliance/association/research institute, etc.:
Center for Cardiovascular Innovations(Academician GE Junbo), Chinese Urology & Andrology Innovation Consortium (Academician SUN Yinghao), Mass Spectrometry Innovation Development Division of the China Association for Medical Devices Industry (Director WANG Chengbin), Vascular Apparatus Division of the China Association for Medical Devices Industry(Director GUO Wei), Lakeside Medical Implant and Intervention Industry Research Institute (Professor XI Tingfei), Suzhou Collaborative Innovation Medical Robot Institute (Professor SUN Lining), Dushu Lake Alliance of Medical Device Innovation, Suzhou Association for Medical Devices Industry, etc.
Industrial park/regional pavilion:
BioBAY of Suzhou Industrial Park, Beidaihe New District, Tianjin Economic-Technological Development Area, China Medical City in Taizhou, China Minimally Invasive Surgical Instrument Town of Tonglu, Danyang Development Zone, Shanghai Free Trade Zone Science and Innovation I Project, etc.
Spectacular concurrent events: Global Device Week
The Global Device Week aims to bring together innovative talents, projects, products and innovation service resources from across the globe. It strives to promote international collaboration in innovation and support research institutes and organizations to accelerate transformation of medical and clinical research results. It also works to establish a favorable environment for medical device innovation with the aim to continuously promote an innovative medical device industry in China. The events in this Global Device Week include:
• 3rd China Medical Innovation Forum 2018 (CMIF 2018, September 6)
• China Medical Device Design & Startup Competitions 2018 (CMDDSC 2018, September 6)
• Transformation Medicine and Innovation Service Forum 2018 (TM&IS 2018, September 7)
• Device China 2018 (September 8-9)
• FTR4H 2018 Talk & Lounge (September 6-8)
For more information, please visit the official website: www.medicalfair.cn