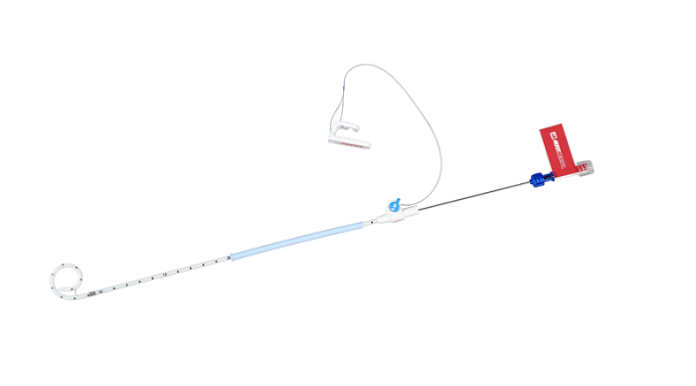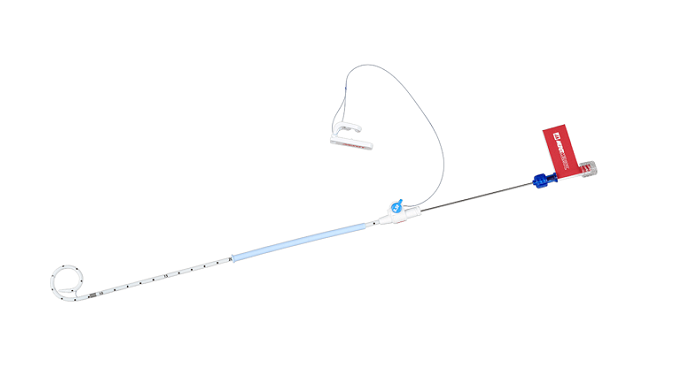 Merit Medical announced the commercial launch of the ReSolve Mini Locking Drainage Catheter, the most recent addition to Merit's line of innovative ReSolve Locking Drainage Catheters. The ReSolve Mini is intended for the percutaneous drainage of fluid from body cavities, and its mini pigtail design – which is up to 42% smaller than the standard ReSolve Locking Drainage Catheter pigtail – allows the catheter to be placed into small fluid pockets.
The ReSolve Mini features a tapered tip and hydrophilic coating for smooth introduction, designed to reduce patient discomfort. Depth markers located on the catheter shaft aid accurate placement and act as a reference for correct positioning, and a radiopaque marker band denotes where the pigtail is to ensure all the holes are in the fluid pocket. The device features multiple large holes to help maximize drainage.
Additionally, the ReSolve Mini includes a secure locking mechanism that makes it difficult for patients to unlock the catheter, a pigtail straightener to help insert the cannulas into the catheter easier, and a catheter tip positioned within the pigtail curve, designed to reduce tissue irritation. Flexible polyurethane material prevents kinking and ensures excellent catheter rebound, and an included Repositioning Tool helps unlock and reposition the catheter at any time.
"For years, Merit has been deeply committed to the drainage space, developing novel and innovative catheters and drainage devices that improve the standard of care," commented Fred Lampropoulos, Chairman and CEO of Merit Medical. "The commercial launch of the Resolve Mini furthers that legacy by offering customers a device designed to provide safety, usability, and patient comfort."
About Merit
Founded in 1987, Merit Medical Systems, Inc. is engaged in the development, manufacture and distribution of proprietary disposable medical devices used in interventional, diagnostic and therapeutic procedures, particularly in cardiology, radiology, oncology, critical care and endoscopy. Merit serves client hospitals worldwide with a domestic and international sales force and clinical support team totaling in excess of 300 individuals. Merit employs approximately 6,350 people worldwide with facilities in South Jordan, Utah; Pearland, Texas; Richmond, Virginia; Malvern, Pennsylvania; Rockland, Massachusetts; Aliso Viejo, California; Maastricht and Venlo, The Netherlands; Paris, France; Galway, Ireland; Beijing, China; Tijuana, Mexico; Joinville, Brazil; Markham, Ontario, Canada; Melbourne, Australia; Tokyo, Japan; Reading, United Kingdom; Johannesburg, South Africa; and Singapore.