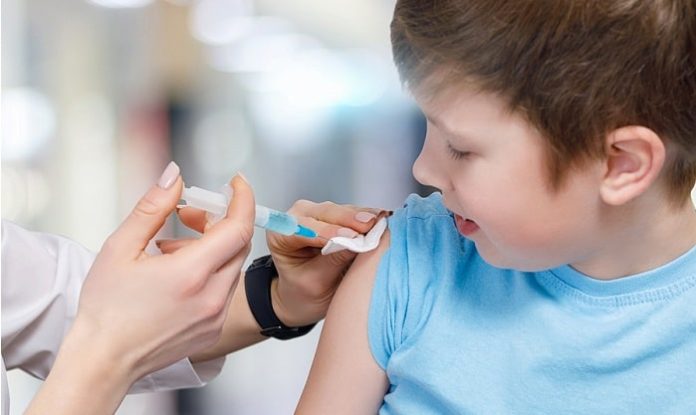 Virtually every parent looks for the best way to care for and nurture their kids to give them the best start in life. But with so much misinformation, or conflicting information, coming from multiple sources, mostly online and via social media, there is a real need for reliable and credible information to aid their decision making. Vaccination is one of the topics around which there continues to be a lot of discussion.

Few would deny that vaccines have been one of medicine's greatest triumphs in protecting people's health and wellbeing, helping to largely eradicate diseases such as polio, measles, mumps, rubella and diphtheria. However, that might give the impression that these diseases are no longer a threat. So where can you find information about vaccination that is both reliable and evidence-based so you can make informed decisions?
Helping parents make the right choices
In the belief that parents should be able to make decisions based on the best possible evidence, Philips and GSK have teamed up to equip Philips' Pregnancy+ and Baby+ apps with comprehensive and reliable information about vaccine preventable diseases and the vaccines that are available. This includes articles and videos about the importance of vaccination, together with a vaccination hub that helps parents access comprehensive and reliable information to support conversations with their healthcare professionals, such as which vaccines are relevant and when they need to be administered. Parents are also invited to participate in on-line research that will help to better understand their views on different vaccinations.
"With misinformation and often conflicting information from multiple sources, mostly found online and via social media, there is a great need for reliable and credible information," said Deeptha Khanna, Chief Business Leader Personal Health at Philips. "With our Pregnancy+ and Baby+ apps we are in direct contact with millions of parents and parents to be. We want to support them with trustworthy and reliable information and create greater awareness of vaccination programs and vaccine preventable diseases."
Commenting on the partnership for GSK, Dr. Francesca Ceddia, Vice President, Head of Global Medical Affairs at GSK Vaccines said: "Pregnancy and bringing home a new baby are exciting experiences for parents – experiences that have them asking many questions about their child's health and searching for clear, accurate answers. While multiple digital resources are now available and access to information has never been quicker, the spread of misinformation on social media can make it difficult to know where to turn. For this reason, we have partnered with Philips to offer parents access to scientifically accurate, easy-to-understand information on vaccine-preventable diseases, which can help them protect their child."
Delivering on the quadruple aim
With the Philips Pregnancy+ and Baby+ apps reaching a combined total of almost 2 million parents across the globe every day, the Philips/GSK vaccine partnership represents a huge step forwards in providing parents with factual, scientifically accurate information. By facilitating preventative care, offering easy digital access to information, and eliminating much of the cost and heartbreak of treating preventable childhood diseases, it further cements Philips' commitment to the quadruple aim of healthcare – improved outcomes, better patient and staff experiences, and lower cost of care.
The Philips/GSK partnership offering is already live in Brazil, Canada, Switzerland, Poland, Spain, Germany, Italy, Australia, Russia and Mexico, where it has proved highly successful in reassuring parents who have been unable to have face-to-face contact with their child care teams due to the COVID-19 pandemic.