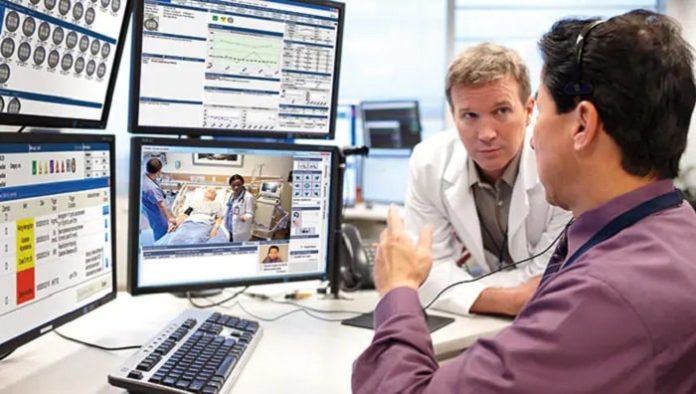 As hospitals seek to manage the challenge of critical care provider shortages (critical care nurses and physicians, known as intensivists), and rising patient acuity in the intensive care unit (ICU), a new breed of independent tele-ICU providers is emerging to offer the support needed for bedside care teams.
Intercept TeleMed, leveraging Philips' eCareManager Acute Telehealth Suite, has launched tele-ICU services for hospitals that want the benefits of intensivist-led care, 24/7 staffing, and advanced analytics. Organizations seeking to implement a centralized delivery model without the upfront investment in resources and infrastructure can achieve this through a trusted tele-ICU services provider like Intercept. Particularly geared toward hospitals with fewer ICU beds than the threshold needed to build an independent remote clinical command center, Intercept can also provide hospitals with consultative services such as tele-stroke, tele-psychiatry, or staff augmentation.
Intercept was founded by Dr. Diego C. Reino, a surgeon specializing in abdominal organ transplants for the highest risk patients. Having personally experienced the value of tele-ICU, Dr. Reino gathered a support staff of critical care physicians and nurses who could remotely deliver the data-driven critical care expertise that bedside teams need. Intercept offers customized solutions that address each organization's individual needs, whether that be staff augmentation, a "round and respond" or specialist physician on demand service, or a full 24/7 tele-ICU. These solutions are made possible through Philips eCareManager, delivered as a turnkey solution for a hospital's operational needs and attuned to their outcome goals.
Philips eCareManager synthesizes patient data and uses predictive analytics and data visualization to deliver need-to-know information to caregivers for increased clinical decision support. This insight helps empower the remote care team at Intercept to detect patient trends and deterioration early so they can intervene in a timely manner. eCareManager also allows Intercept to effectively manage various patient populations and the coordination of care with confidence. The system keeps patient information in a centralized database to provide care teams – bedside and telehealth – with access to the same, up-to-date information to ensure efficient and effective collaboration.
In previous studies, patients who received their ICU care from a hospital that utilized Philips' eCareManager:
• Saw a significant reduction in mortality;
• Were discharged from the ICU 20% faster;
• 15% were discharged to home faster.
"Our solutions help the underserved population of small hospitals with the critical services they need," said Christine Storm, General Manager of Patient Care Analytics at Philips. "Helping to drive proactive care for the sickest patients at organizations of all sizes is a key part of meeting Philips' goal of improving 3 billion lives annually by 2030."
"At Intercept, we designed a tele-ICU services company that is founded by critical care physicians, funded by critical care physicians and is led by critical care physicians, all of whom have an in-depth understanding of the problems and opportunities for improved outcomes within any ICU," said Diego Reino, MD, CEO, Intercept TeleMed. "By leveraging Philips' advanced telehealth solution, Intercept has been able to build real partnerships with our hospitals and bedside staff to deliver proactive care to patients."
Intercept works directly with Philips to implement the solution across client sites, incorporating the technology within the hospital's algorithms for care. The tele-ICU helps these hospitals meet Leapfrog IPS standards as well as minimize transfers and patient leakage across their organizations.
As part of its commitment to continuously evolve to meet the needs of a changing healthcare marketplace, Philips recently announced an eCareManager platform extension with the launch of Sentry Score, a predictive algorithm for the adult intensive care unit (ICU) that shows a patient's probability of requiring an intervention within 60 minutes.