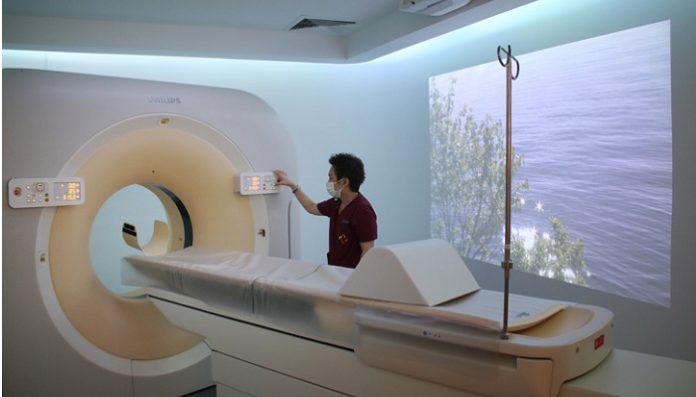 Since its official opening in March this year, The Prestige Hospital has been focused on developing the services of the Singaporean-standard hospital in Phnom Penh in the endeavour to become a "lifetime healthcare partner" of the Cambodian people, ensuring its services offer the latest in medical technological innovation on a par with international standards and methodologies.
In an exclusive interview with Khmer Times, The Prestige Hospital CEO Dr Christopher Tay, who is the former COO at Singapore's Tan Tock Seng Hospital, said TPH is setting itself apart becoming a 'smart hospital'.
"We employ technology in a way that makes us special," Dr Tay said. "Most hospitals utilise technology to organise administration – but we took it further – incorporating technology across all our services to make sure what we deliver is faster, better, safer and cheaper."
TPH has the only 'ambient experience' CT scanner in Cambodia, which uses intelligent coloured lighting and visual stimuli to put patients and children at ease while scans are performed.
Also, the electronic medical record system allows doctors to view patient data and provide care from any terminal in the hospital – even from the POS terminal in the café if necessary.
"Data is initially saved locally on encrypted servers in case we lose internet connectivity. However, in the evenings the patient data is compressed, encrypted and then backed up to webservers," Dr Tay explains.
"This method gives us speed – the speed to access files quickly and from multiple locations but also the peace of mind to know should a server failure occur we can still access patient files at the hospital."
However, TPH isn't stopping there and is already looking at several other features to improve its services for patient's convenience, including mobile apps that will allow patients to interact directly with their data, giving them the ability to view hospital reports, test results, schedule new appointments and even have teleconsultations.
"The further we innovate using technology the more we discover what is possible to us, to the benefit of our service users. Without technology everything seems impossible, with technology it is endless possibilities," Dr Tay added.