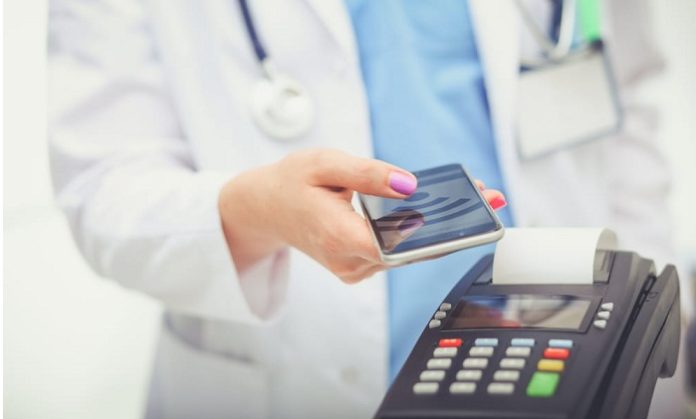 The Covid-19 pandemic has been a catalyst in accelerating digitisation of many sectors during the lockdown. However, a sector which has proven to be the most crucial during these tumultuous times is healthcare. With the rapid spread of Coronavirus, hospitals, pharmacies, diagnosticians, paramedics etc., had to instantaneously rethink their existing processes and alter it in a way to comply with the imposed instructions. One of the most important ways of doing this was digitising the processes almost entirely.

As social distancing became the norm, patients grew apprehensive of visiting hospitals or clinics and alternate ways saw a surge almost immediately. Many healthcare service providers began adopting digital modes of payments to minimise the risk of spread.
According to a report by Boston Consulting Group (BCG) and The Federation of Indian Chambers of Commerce & Industry (FICCI), there will be a main open digital ecosystem (ODE) that will unlock economic value worth over $200 billion by 2030. The ecosystem will become more efficient due to the adoption of standardised digital practices, creating $40-50 billion in savings.
This projection will hold true as during the lockdown, over 5 crore Indians accessed tele-consultation services across 2000 towns. This surge was supported because there was a strong digital infrastructure already in place. Needless to say, the sector was overwhelmed with changes such as elective procedures being cancelled, virtual interactions gaining momentum, remote working of staff, contactless medicine deliveries etc.
While most of these changes were driven by the pandemic, they are likely to continue in the future as well. Accelerated by demonetisaton, digital payments have enabled the healthcare sector in India to go truly contactless. Additionally, faster processing owing to streamlining of manual processes, digital invoices and minimising discrepancies are some key features of digital payments which will drive healthcare industry's transformation.
Growth of India's online pharmacies
The lockdown restrictions gave a significant thrust to the already booming online pharmacy sector. As restrictions were imposed on movements of people, over-the-counter purchases saw a massive drop. However, essential medicines had to be purchased for patients with pre-existing medical conditions. These consumers immediately made the switch to online pharmacies. These pharmacies not only ensure convenience but also offer various value-added services such as discounts, rebates and lucrative cashback. Additionally, leading pharmacies such as 1mg, Pharmeasy, Netmeds and Medlife have looked to diversify their businesses with online lab testing, virtual doctor consultations, and insurance claims management services.
According to an industry report by FICCI, the number of households in India using e-pharmacy services during the nationwide pandemic-induced lockdown surged by about 2.5 times to 8.8 million. These numbers are a collective product of internet penetration, mobile availability and a strong digital infrastructure equipped with various modes of payments. As these 8.8 million households are already on a digital platform for months now, they are most likely to continue ordering their essentials digitally even post the pandemic.
Ease of billing
It's no secret that healthcare incurs a lot of paperwork. However, with digital payments, the billing process becomes a cakewalk. Digital platforms and portals automate the process of bill generation and processing, thereby relieving the patients and their families of the unwanted hassle of billing. As patient information is stored on to digital platforms and medical portals, it results in reduction of time spent at billing counters, thereby increasing customer satisfaction.
Timely payments and settlements of claims
Just as you receive customised communication for the repayment of loans, agencies and policy providers share reminders of insurance payments owing to the data obtained using digital portals. These portals store information such as your name, payment dues and preferred mode of transaction and share the reminders accordingly. Upon receiving this, one is just a click away to clear the dues.
Similarly, settlements have seen shorter cycles as digital information is easily available to calculate and disburse the required amount.
Transparent ecosystem
A normal medical bill has numerous details and inclusions. At times, this baffles the patient or his/her family. With digital payments, every rupee spent is tracked and accounted for. There cannot be misappropriation of funds. As the patient is completely in agreement with the amount being billed, there is an immense sense of trust and confidence. In case of any discrepancies or misunderstandings, revisions can be made immediately and the same will reflect on a real-time basis.
Improved business proficiency
As processes go digital, manual intervention is minimised. Therefore, the chances of human error are close to zero. Removal of paper-based processes not only frees the staff from hours of tally but also aids them in channelizing their energies in providing better customer service. Also, digital payment platforms store tonnes of data securely and help in ease of forecasting, customisation and inventory management; all this within a few clicks!
For instance, as soon as the Government announced the nationwide lockdown, Dr Lal Pathlabs, one of India's Top Diagnostic Chains, through their digital platform, seamlessly conducted its operations by allowing customers to interact, book tests and make payments digitally. Additionally, for patients who visited the centres, payment options were extended using Ongo PoS terminals to facilitate cash-less transactions. Solutions like these aid in reinstating customer's confidence in visiting labs and also simplify business processes by digitising them.
Enablement of telemedicine
While telemedicine and virtual consultations existed way before the pandemic, there has been a significant increase in the number of portals now. As per a report by Niti Ayog, all frontline healthcare workers are at a high risk of infection. Hence, the organisation is pushing for digital consultations during these times. With these virtual platforms, patients, especially ones in rural
areas, do not have to visit hospitals in metropolitan cities as their queries can be resolved remotely. Initially, one issue that hampered the growth of telemedicine was digital payments. Since most villages did not have power supply and there was a lack of digital literacy, consultation fee payment was an issue.
Now, with the increased mobile and internet penetration, patients can easily avail e-consultation and pay seamlessly using their preferred digital options such as UPI, wallets, cards etc.
Future
Healthcare sector has been immensely disrupted by digital payments. With all the data available, institutions can run loyalty programs, offers discounts on deliveries, tie-up with payment providers for rebates etc. This will not only aid customer retention but will also help in brand building.
Additionally, with the increasing number of consultation portals, online pharmacies, pathology labs, customers can compare the services and prices. This change will lead to the shift of power of choice to the customer, thereby, making the entire sector customer-centric. The increasing digital adoption will also lead to many service providers turn to holistic digital options that will not only cater to payments but also provide various value added services.
Disclaimer: The views expressed in the article above are those of the authors' and do not necessarily represent or reflect the views of this publishing house. Unless otherwise noted, the author is writing in his/her personal capacity. They are not intended and should not be thought to represent official ideas, attitudes, or policies of any agency or institution.