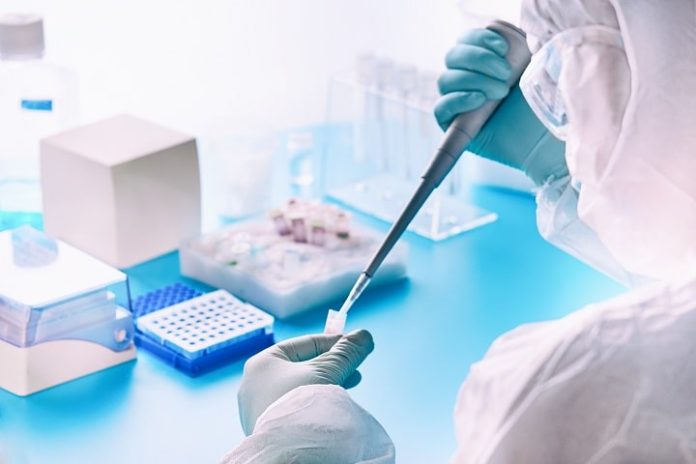 Sciessent announced that its Agion antimicrobial completely inactivated SARS-CoV-2, the virus that causes COVID-19, in a lab test conducted on Agion-treated medical textiles. Not only was Agion 99.99 percent effective (4-log reduction) in inactivating SARS-CoV-2 in five minutes on newly treated medical textiles, this efficacy was maintained even after 20 launderings of the textiles.
This research was conducted in accordance with ISO 18184 protocols, which require the controls to exhibit high levels of the pathogen tested (less than 1-log reduction) throughout the course of the study. In studies of other antimicrobial brands, the controls exhibited as much as 99.9 percent reduction of SARS-CoV-2, which according to ISO standards invalidates the results.
Conversely, the control medical textiles that were tested in Sciessent's study maintained high levels of the SARS-CoV-2 virus after five minutes, while no live virus could be detected on the textiles treated with Agion after the same time period.
The Agion antimicrobial can be applied to knit or woven medical textiles as a finish, as was tested in this study, or incorporated into the polymer itself for non-woven textiles (melt blown process). Paul C. Ford, CEO of Sciessent, says this latest research is a significant win for manufacturers of U.S. Food and Drug Administration (FDA) regulated medical textiles treated with Agion.
"We have conducted numerous studies on the effectiveness of Agion against other coronaviruses but this is the first showing high efficacy against SARS-CoV-2 in washed fabrics," said Ford. "Demonstrating rapid effectiveness and near complete deactivation of SARS-CoV-2, along with wash durability, opens the door for manufacturers of FDA-regulated medical textile products to use Agion in more applications, including N95 respirator masks, gowns and other personal protective equipment (PPE)."
The Agion® Antimicrobial is presently registered by the United States Environmental Protection Agency as a preservative and bacteriostatic agent for use in treated articles under 40 CFR 152.25a. The information presented herein is not intended to support or endorse public health claims for treated articles. The Agion Antimicrobial is also used in medical devices under the Food and Drug Administration; those medical device claims are based on safety and efficacy testing and are limited to those approved by FDA. In the EU, the Agion Antimicrobial is used in medical devices under the Medical Device Directive: those medical device claims are based on
safety and efficacy testing and are limited to those approved by the designated Competent Authorities and/or Notified Bodies.
About Sciessent
Sciessent is a leading provider of customized antimicrobial solutions that enhance the value of customers' products. Agion antimicrobial solutions from Sciessent have been incorporated into a wide range of healthcare, industrial, and consumer applications, including medical devices such as central venous catheters and IV access ports, drinking water applications like water filters and ice making equipment, and textiles and apparel.