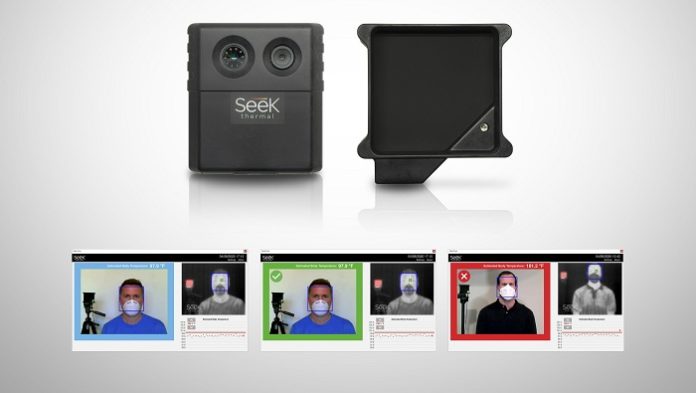 Following the guidance from the U.S. FDA and further updated documentation released Seek Scan™ is now one of the most affordable thermal scanning solutions that meets FDA guidelines for initial body temperature assessment during the COVID-19 public health emergency.
As U.S. businesses reopen, the Centers for Disease Control and Prevention has formally released its recommendations to create safe and healthy workplaces to protect workers and visitors. Within its guidelines, the CDC encourages employers and building operations specialists to consider conducting daily in-person or virtual health checks (e.g., symptoms and/or temperature screening) of employees before they enter the work site.
For businesses and institutions looking for highly affordable temperature scanning capabilities, Seek Thermal offers Seek Scan (MSRP $1,995), a thermal imaging system designed to quickly automate body temperature screening using skin temperature as a proxy. Seek Scan is specifically designed and calibrated to deliver accurate skin temperature measurements while enabling social distancing protocols. In a few seconds, the system automatically detects a face, identifies the most reliable facial features for measurement and displays an alert if the readings are warmer than the customizable alarm temperature.
"Thermal imaging systems are an important singular component of a broader strategy to create safer and healthier environments as we reopen our country," said Bill Parrish, Co-Founder and Chief Technical Officer of Seek Thermal. "There is plenty of ongoing discussion about the technology's capabilities. The position of Seek Thermal is that products such as Seek Scan can provide an initial assessment of a person's body temperature and should follow FDA guidelines by meeting the accuracy specification, including a reference heat source (black body) and be made for single person screening at a fixed distance. While thermal imaging is not a panacea for detecting anyone with novel coronavirus, the technology can help detect elevated temperatures and provide safer environments for businesses and other gathering places."
Seek Thermal has developed customer relationships with a diverse group of leading organizations including manufacturers, government institutions, hospitals and medical facilities, office buildings, hotels and hospitality providers, small businesses, arts and entertainment venues and promoters, and professional sports organizations.
Seek Scan utilizes infrared thermal imaging technology, a temperature-controlled heat source and Seek Scan software to accurately measure and screen for skin temperature. Additional key features are below:
Designed & Calibrated for Skin Temperature – Unlike typical industrial thermal cameras, Seek Scan was developed for precise skin temperature measurement and also includes a fixed heat source to maximize accuracy.
Enables Social Distancing – Delivers the same performance as a temporal thermometer – but with a safe social distance.
Fast, Automated Screening – In seconds, the system automatically detects a face, finds the most accurate spot for measurement and displays a pass/fail alert.
Easy to Install and Easy to Use – Start scanning in minutes using two tripods and a Windows PC
Proven Technology – Thermal imaging has been tested, studied and deployed globally for years in skin temperature measurement applications
Affordable – One of the most affordable thermal imaging solutions following FDA guidelines during the COVID-19 Public Health Emergency
Manufactured in the USA – Seek Scan is manufactured in Santa Barbara, California and is NDAA compliant
Volumes and availability:
Seek Thermal continues to expand production capacity to meet increasing demand from businesses of all sizes. For pricing and availability, please contact us at thermal.com.
Seek Scan should not be used to diagnose, or exclude diagnosis of, COVID-19 or any other disease or condition. A diagnostic test by medical professionals must be performed to determine if someone has COVID-19.
About Seek Thermal
Seek Thermal engineers and manufactures low-cost, high-resolution thermal imaging cameras and OEM thermal cores. The company was founded in 2012 by two industry pioneering scientists, Bill Parrish, PhD and Tim Fitzgibbons PhD, who spent 40 years advancing the state of military and professional-grade thermal imaging technology. Following their previous two companies, Amber Engineering and Indigo Systems, each with successful acquisitions, Seek Thermal is their third venture with the mission to make thermal imaging a part of everyday life. As one of the few companies in the world capable of building sensors, Seek Thermal has shipped hundreds of thousands of thermal imaging products around the world as it continues to make thermal imaging an accessible, everyday tool, so people can do their jobs safer, faster and smarter.