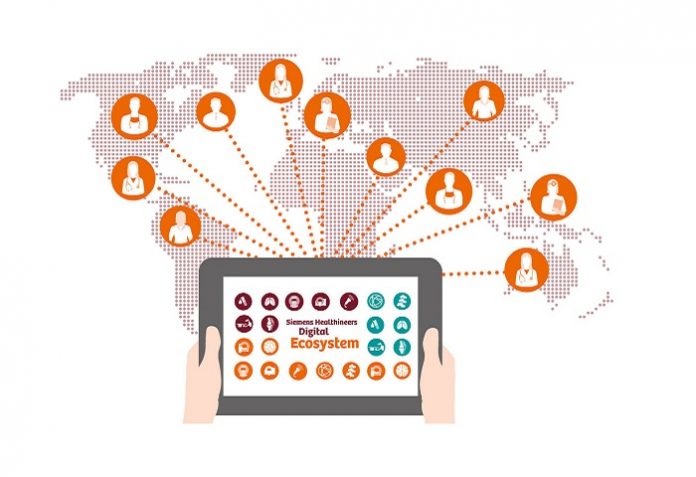 At the 2018 HIMSS Annual Conference & Exhibition, Siemens Healthineers showcases new additions and updates to its Digital Ecosystem,1 an open and secured environment for healthcare stakeholders that houses a range of digital offerings from Siemens Healthineers and other partners based on shared healthcare data.
Within the Siemens Healthineers cloud, different data sources can be integrated and processed, supporting a large variety of application types. To date, almost 2000 institutions from roughly 50 countries take part in the Digital Ecosystem, continuously feeding data into this platform to derive insights based on innovative applications and services. Siemens Healthineers leverages digitalized healthcare solutions like the Digital Ecosystem to cultivate the vast amounts of data produced through diagnostic images, laboratory results, and more enabling healthcare providers to address current healthcare challenges and provide value-based care to patients.
"The Digital Ecosystem utilizes these vast data sets to generate insights through innovations available from Siemens Healthineers and our platform partners."
Network of innovative services and applications
"As mass amounts of healthcare data are produced every day, healthcare providers need a tool that can channel information into actionable insights," says August Calhoun, Senior Vice President of North America Services at Siemens Healthineers. "The Digital Ecosystem utilizes these vast data sets to generate insights through innovations available from Siemens Healthineers and our platform partners."
At HIMSS 2018, Siemens Healthineers unveils a number of new partners and applications:
Amra Medical2: An international digital health company, it is the first in the world to transform images from a rapid, six-minute whole body MRI scan into precise, 3D-volumetric fat and muscle measurements, enabling market-leading accuracy and precision when assessing lean tissue changes, muscle fat infiltration, and overall metabolic status.
www.amramedical.com
Circle2: Circle Cardiovascular Imaging Inc. develops cvi42, a cardiovascular post-processing software for the analysis of MRI and CT images, providing rapid analysis with unparalleled accuracy.www.circlecvi.com
Combinostics2: Combinostics' cNeuro cMRI application turns MRI brain images into objective measurements of brain structures, supporting early diagnosis in Alzheimer's disease and other neurodegenerative diseases.www.cneuro.com
Cranberry Peak2: Approved by the Centers for Medicare & Medicaid Services (CMS) for the Appropriate Use Criteria Program, Cranberry Peak's ezCDS application provides compliance with ease for PAMA/MACRA mandates with a patent pending AI assistant serving as a clinical decision support mechanism. With multilingual voice and conversational interface, ezCDS helps physicians spend more time with patients and less with computer screens, creating the user experience of the future in healthcare.www.cranberrypeak.com
Precision Image Analysis (PIA)2: PIA is a service provider of cloud-based, advanced medical image post-processing and analysis. PIA offers an opportunity to avoid training personnel, software, and hardware capital costs and employ an on-demand post-processing expert. Completed analyses are returned and auto-appended to original patient studies on the client's Picture Archiving and Communication System (PACS) for final diagnostic interpretation by the physician.www.piamedical.com
XIFIN2: XIFIN is the first partner to offer solutions for the clinical laboratory on the Siemens Healthineers Digital Ecosystem. Their flagship cloud-based Revenue Cycle Management (RCM) solution optimizes the laboratory's financial performance by maximizing efficiency, improving cash collection, and delivering financially accurate and actionable business intelligence. XIFIN's solutions will be sold in the US market.
www.xifin.com
Digital Ecosystem Store
All digital offerings will be available through a special marketplace, the Digital Ecosystem Store. The store allows users to search for, request a quotation or trial, and download offerings as part of specific subscription models. Offerings available in the store cover cloud-based and locally installed deployments. Due to the collaborative nature of the Digital Ecosystem, customers and patients benefit from an ever-expanding range of digital health offerings. The Digital Ecosystem from Siemens Healthineers is continuously developing and growing, offering new innovations and solutions for healthcare providers across the globe to efficiently introduce digital health offerings into their institutions.
The Siemens Healthineers Digital Ecosystem is under development and not commercially available in the U.S. and other countries. If the services are not marketed in countries due to regulatory or other reasons, this service offering cannot be guaranteed.
Siemens is neither the provider nor reseller nor legal manufacturer of these products. Any claims made for this product are under the sole responsibility of the legal manufacturer. Additionally, they may not be commercially available in all countries. Please contact the legal manufacturer for more information.
Siemens Healthineers is the separately managed healthcare business of Siemens AG enabling healthcare providers worldwide to increase value by empowering them on their journey towards expanding precision medicine, transforming care delivery, improving patient experience and digitalizing healthcare. A leader in medical technology, Siemens Healthineers is constantly innovating its portfolio of products and services in its core areas of diagnostic and therapeutic imaging and in laboratory diagnostics and molecular medicine. Siemens Healthineers is also actively developing its digital health services and enterprise services.
In fiscal 2017, which ended on September 30, 2017, Siemens Healthineers generated revenue of €13.8 billion and profit of €2.5 billion and has about 48,000 employees worldwide. Further information is available at www.siemens.com/healthineers.