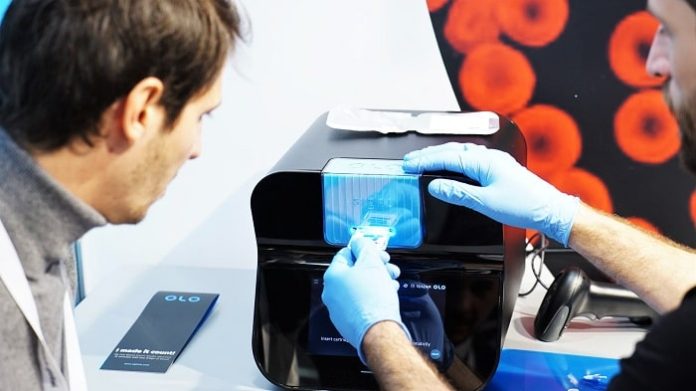 Sight Diagnostics, the company delivering lab-grade Complete Blood Count (CBC) results in minutes, announced a distribution partnership with Phoenix Capital to extend Sight's footprint in the Middle East. Through the partnership, Sight will provide OLO analyzers – the company's decentralized, lab-quality diagnostic technology – to medical centers across the Middle East to help providers make quick and informed treatment decisions.

Most outpatient clinics in the United Arab Emirates are currently operating mini-labs with legacy diagnostic technologies like flow cytometry, which require large, expensive machines that aren't suited for point-of-care (POC) settings. As such, there is an increasing demand for modern POC diagnostics in the Middle East and Africa, with the market projected to reach $2.85 billion by 2024.
Sight OLO enables fast, accurate, convenient blood diagnostics by delivering CBC results in minutes right at the point-of-care*. About the size of a toaster oven, OLO is small, compact, and light-weight, allowing for quick, simple set-up wherever it's needed. Unlike traditional CBC analyzers, Sight OLO does not require reagents or manual quality control checks, making it easy for smaller clinics or independent practices to access and operate.
Abdullah Saeed Al Naboodah, Chairman of Phoenix Capital remarks, "We chose Sight OLO because it simply meets the needs of the clinics we distribute to. With the influx of patients due to COVID-19, having access to fast, accurate fingerprick diagnostics is essential to quickly and correctly triage and treat our clinic's patients."
Phoenix Capital will first distribute Sight OLO to the nine medical centers it owns across the United Arab Emirates. Over the next year, Sight will work with Phoenix Capital to start expanding OLO's install base in the rest of the Gulf Cooperation Council region.
"We're determined to democratize access to rapid, accurate, and convenient diagnostics in countries around the world," says Yossi Pollak, CEO and Cofounder of Sight Diagnostics. "We're looking forward to expanding into this new market through our partnership with Phoenix Capital to help meet the needs of emergency rooms, clinics, hospitals, and other care facilities that have been impacted by COVID-19."
This distribution partnership follows a recent investment partnership between Phoenix Capital and OurCrowd, one of Sight's longtime investors that recently participated in the diagnostic company's $71 million Series D funding round. Notably, the news also follows a historic normalization agreement between Israel and the United Arab Emirates, signaling the countries' progress in sharing resources and technology to improve healthcare together.
*Sight OLO received regulatory approval for use in the UAE and is CE Marked according to the IVD European directive at point of care settings. In the United States, Sight OLO is 510(k) cleared for use in moderate complexity laboratories; it has not yet been cleared for point-of-care use.
About Sight Diagnostics
Founded in 2011, Sight Diagnostics aims to transform health systems and patient outcomes through accurate and pain-free blood diagnostic testing. Sight's technology, developed over almost a decade of research, represents breakthrough innovations in diagnostic methodology. Sight's latest blood analyzer, Sight OLO, performs a Complete Blood Count, the most commonly ordered blood test, in minutes. It's compact: designed to be used in a variety of settings. Sight OLO creates a digital version of a blood sample by capturing more than 1,000 highly detailed images from just two drops of blood obtained from a finger prick or venous sample. These images are then interpreted by proprietary and fully automated AI algorithms. Sight's first product, ParasightTM, has been used to detect malaria in almost 1 million tests across 24 countries. The company has rapidly growing offices in the UK, the US and Israel.
About Phoenix Capital
Phoenix Capital was established by Mr Abdullah Al Naboodah to help catalyze the growth of expansion-seeking entrepreneurs and businesses from around the globe and to help create a more developed and connected world. By leveraging experiences in a diverse array of industries, Phoenix Capital's portfolio of sophisticated and wide-ranging clients and partners serve as a springboard for entities with ambition to penetrate the GCC (Gulf Cooperation Council).