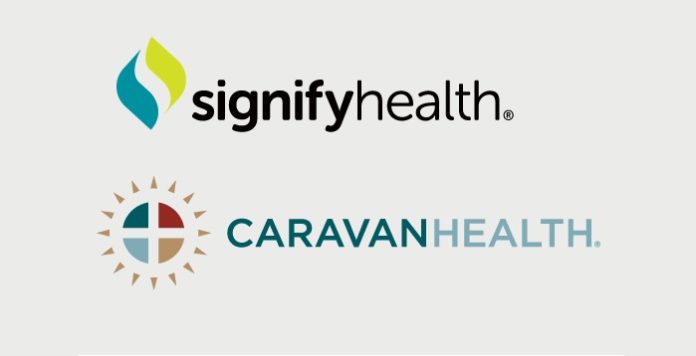 Signify Health, Inc., a leading value-based healthcare platform that leverages advanced analytics, technology and nationwide healthcare provider networks,  announced it has signed an agreement to acquire Caravan Health, a leader in enabling accountable care organizations (ACOs) to excel in population health management and value-based payment programs, for an initial purchase price of approximately $250 million in a combination of cash and Signify Health common stock. The transaction also includes contingent additional payments of up to $50 million based on the future performance of Caravan. Caravan Health will join Signify Health in supporting a wide spectrum of advanced payment models, enabling providers to assume various levels of risk and collaborate in ways that support their goals to improve health outcomes while lowering costs across the care continuum.
This combination unites two leaders in value-based payment models covering a broad range of risk-based and shared savings models, from advanced primary care payment to specialty care bundles to total cost of care contracts. Caravan Health brings key technology, insights, and transformation services to community hospitals, physician practices and clinics looking to succeed in accountable care and other commercial risk arrangements. Signify Health brings technology, analytics, and management expertise in episodes of care and bundled payments. Together, the companies will be supporting approximately $10 billion in total medical spend under management.
Upon closing, Caravan Health and Signify Health will have one of the largest national networks of providers engaged in risk-based payment models. Beyond Signify's current network of over 3,000 physician practices and facilities contracted in value-based arrangements, Caravan adds more than 200 health systems and 100 Federally Qualified Health Centers with more than 10,000 primary care providers that collectively manage over 500,000 patients, most of whom are medically underserved and struggle to access care. Signify is well positioned to address these persistent access issues by assisting these providers, extending their capacity to engage patients in the home and virtually through Signify Health's national mobile network of approximately 10,000 credentialed physicians and nurse practitioners, and over 600 engagement, clinical, and social care coordinators. In conjunction with Caravan Health's proprietary software, Signify's mobile network can be aimed at helping the patients that need it most, extending the resources of often-stretched local care teams, and giving patients the care they need, when and where they need it.
The companies also will focus on leveraging Signify Health's deep payor relationships to increase provider participation in, and access to, commercial value-based care programs. Combining Signify Health's and Caravan Health's value-based offerings increases the percentage of patients in a provider's panel that are covered by value-based arrangements, thereby making them more attractive and helping to drive care redesign.
"A strategic focus for Signify Health has been driving more participation and success in value-based payment arrangements in alignment with our commercial payor clients. This focus also supports critical imperatives from the Centers for Medicare & Medicaid Services (CMS) to improve health equity and have everyone in Medicare fee-for-service aligned to an accountable relationship by 2030," said Kyle Armbrester, CEO of Signify Health. "We are thrilled to welcome Caravan Health's team as we build the infrastructure and payment models that are needed to achieve patient-centric, holistic care and better outcomes for everyone, especially the underserved."
"This is an exciting opportunity to leverage the combined technology, tools and expertise of Caravan and Signify to all move forward toward better patient care while helping providers achieve financial sustainability," said Lynn Barr, Founder and Chairwoman of Caravan Health. "We share with Signify Health a deep commitment to doing everything possible to help those we serve live their best life and look forward to accelerating our collective mission to create a healthcare system that works better for all of us." Upon closing, Ms. Barr will become Chief Innovation Officer of Signify Health and Tim Gronniger, CEO of Caravan Health, will become EVP, Accountable Care and CEO of Caravan Health.