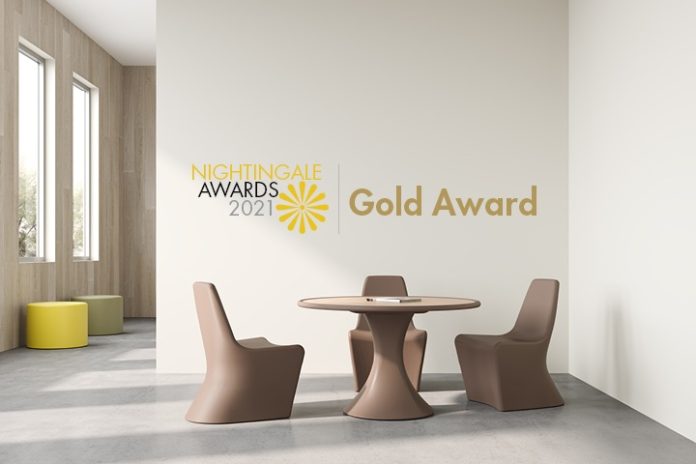 Flo, an all-new dining collection created exclusively for Behavioral Health environments, has won the Nightingale GOLD Award at this week's 2021 Healthcare Design Expo + Conference. The collection marks the third HCD award win from Flo manufacturers, Stance Healthcare, known for their innovative, safe, and comfortable Behavioral Health and general healthcare products.

The rotationally-molded Flo offers beautiful organic lines and a soothing color palette, providing a calming aesthetic that invites users to relax while dining safely in an intensive use space.
The chair and tables in the Flo series, released June 2021, feature a rotationally molded one-piece base offering superior durability and cleanability, and can be ballasted or bolted to the floor to suit environmental needs. Flo's dining chair, with its high back support and rounded edges throughout, is ergonomically designed to enhance user comfort and safety. Table tops in the series include a seamless laminated surface with a molded polyurethane edge to resist picking, and are assembled using a multi-core composite construction with encapsulated fasteners for superior strength. Flo's balance of functional symmetry and peaceful color tones make it a welcoming addition to any Behavioral Health facility.
"It's a thrill to receive a win for Flo, especially because this is a product that is so unique and valuable for Behavioral Health settings – specifically in the often-overlooked dining areas," said Suzanne Fawley, Stance Healthcare's Behavioral Health Interior Designer. "It's so important that therapeutic environments are supported by furniture that is not only safe and not distracting, but more importantly, comfortable and dignifying for the user. Flo provides this support by giving end-users safe, inviting furniture that encourages normal-life interactions."
Flo follows two previous Nightingale wins for Stance Healthcare, the Resilia Drum Table in 2017 and Frontier for Behavioral Health in 2019. The Flo collection is one of several 2021 new releases from Stance Healthcare's growing portfolio of durable, beautiful and comfortable healthcare furniture for general and Behavioral Health settings. The award-winning collection follows the company's Improving Lives by Design mission to support the experience of patients, care providers, and visitors with every product design.
New releases from Stance Healthcare and Stance Behavioral Health for 2021 include:
Terrace Outdoor Collection for Behavioral Health (released in September)
Flo Dining Collection for Behavioral Health (released in July)
Pier Tables for Behavioral Health (released in July)
Gem Occasional Table (released in May)
Iris Occasional Table and Iris Occasional Table for Behavioral Health (released in May)
Valet and Valet for Behavioral Health (released in April)
Jensen Guest Seating Collection and Jensen Lounge Collection (released in March)