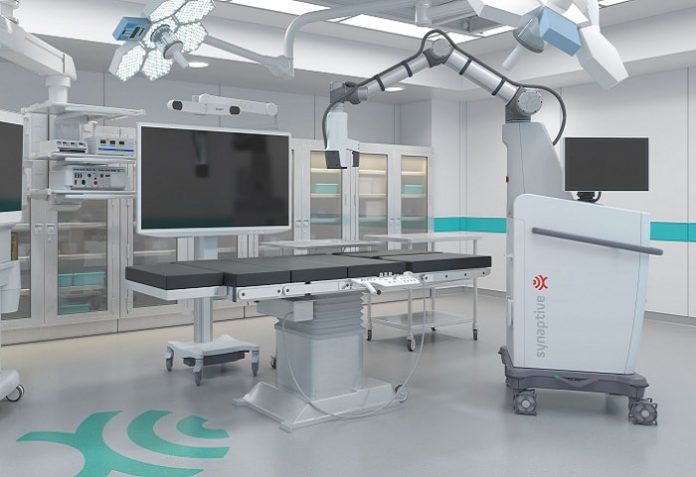 Synaptive Medical, a global pioneer in automated surgical robotics and planning, has expanded its presence in Asia by providing Thai and Vietnamese hospitals with its BrightMatter ™ and Modus V ™ product suite , a set of neurosurgery instruments designed to unify surgical planning, imaging and navigation aimed at achieving more integrated brain and spine surgery and better outcomes for patients.
Drs. Thanakorn and Boonchot from Phramongkutklao Hospital in Bangkok, Thailand, have just completed the first brain surgery operation in the city using Brightmatter and Modus V. Among the other hospitals that bought Synaptive's suite of surgical products includes People's Hospital 115 in Ho Chi Minh City, Vietnam.
"Synaptive's expansion into the Asian market is a reflection of our vision to reinvent and make surgical and robotic technologies accessible to patients and healthcare providers around the world," said Peter Wehrly, CEO of Synaptive. "By introducing our BrightMatter product suite to Thai and Vietnamese hospitals, we hope to enable the creation of medical environments in which technology and surgeons will work together seamlessly and with better patient outcomes, transforming inoperable patients into operable patients." ".
The Synaptive BrightMatter product suite and the Modus V robotic arm provide surgeons with an extremely detailed imaging and robotic navigation platform that allows them to visualize the patient's brain with unprecedented detail before and during the procedure. The platform uses the most advanced technologies in the field of automation and imaging to enable surgeons to see the brain from different angles, potentially reducing damage to brain structures associated with key functions such as motion, speech and vision.