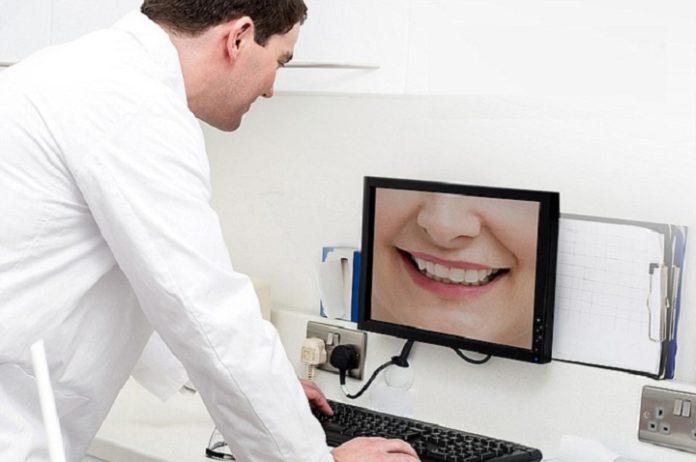 Only a few decades ago, practicing dentistry remotely and talking to a live dentist via real-time virtual digital technology was deemed science fiction. In dental school, dentistry students were taught that their ability to diagnose oral conditions and perform dentistry was solely dependent on their hand instruments and clinical abilities. Thus, a dentist with a mirror and probe, or a handpiece, next to the patient sitting in the dental chair, has become the typical scenario that we would picture.
People are now becoming more reliant on telehealth services as a result of the ongoing Covid-19 outbreak and its accompanying mobility restrictions. According to one survey, 42% of adult respondents in the United States have used telemedicine services since the outbreak began.
Teledentistry, a variant of telehealth wherein you will be able to talk with a live dentist virtually, has been incredibly beneficial for dentists and the patients during this pandemic, preventing both parties from getting or spreading the virus during clinic appointments. Teledentistry is the practice of dentistry that utilizes telecommunications. It entails the electronic exchange of information between a dentist and the patient using interactive audio and video in order to facilitate online consultation, assessment, and treatment.
Dentists have collaborated extensively with their dental clients to develop a smooth teledentistry process. They will determine what information their patients require for invoicing and insurance purposes and assist them in communicating that information via their websites. Additionally, the dentist will include any relevant scheduling links on their site.
If you are a dentist and would want to venture into teledentistry, below are some tips on establishing and promoting your teledentistry services. Before that, though, let us look first at some few benefits it can offer.
Teledentistry: Benefits Of Talking with a Live Dentist Virtually
Apart from making the communication between a dentist and their patients quicker and easier, teledentistry has a number of additional advantages, including the following:
Teledentistry enables patients to get care from the convenience of their homes or any other location as long there is internet access. There may also be less waiting time in between appointments. In the United States, patients typically wait roughly eight minutes to talk with a live dentist.
Can immediately provide emergency dental care:
Patients who experience an unexpected problem with their oral health may panic and will want to see a dentist immediately. Teledentistry allows the dentist to provide immediate assistance in diagnosing and treating a patient's dental problem without requiring them to go to the dental clinic.
Can cater to more patients:
Teledentistry enables a dentist to treat more patients because there is no constraint with regards to location. One can get access to teledentistry wherever you are.
Meets with the demand for modern communication:
With so many people utilizing videoconferencing and other forms of virtual interaction, teledentistry fits inside the comfort bubble of many patients. 
Teledentistry: The Protocol For Virtual Consultation With a Live Dentist
According to ADA guidelines, teledentistry can involve the following five modes of patient care services delivery:
Synchronous or live video: this is real-time, two-way communication between an individual – the patient, a caregiver, or provider and the dentist via electronic audiovisual communications.
The synchronous mode of operation is compatible with open-source, live video applications like Zoom or Google Meet. A real-time video call can be utilized for triage, making diagnoses, patient health education, patient management, electronic prescribing fulfillment, and/or referrals to specialists if there is a need. A more advanced method utilizes live virtual consultation into the dentist clinic business software using specialized portals, which are widely obtainable on the digital market.
Asynchronous: this is a mode of service wherein there is a transmission of collected patient data to the dentist using secure digital communication systems for the purpose of evaluating a patient's condition and/or rendering service outside of face-to-face interaction.
The asynchronous mode of communication enables the dentist to obtain radiographs, pictures, videos, digital copies, and other medical information to conduct a more thorough review of the patient's problems. These platforms can also actually bolster the dentist's referral network, as the data acquired is easily shared with other professionals both within and outside of the dental industry. While dedicated platforms are readily available, typical email and messaging applications can be used efficiently as well.
How To Implement Teledentistry
Teledentistry can allow you to continue caring for your patients even as the Covid-19 pandemic persists. Here are some examples of how to do so:
Seek professional advice from qualified experts.
Consult with other practitioners who are already utilizing teledentistry to ensure that you adopt it properly into your practice. With assistance, you can learn and employ teledentistry.
Recognize and adhere to applicable rules and regulations.
Identify and observe all applicable rules and regulations governing teledentistry; each state may have its own set of laws and federal rules and regulations. The federal government, for example, compels healthcare providers to adhere to the 1996 Health Insurance Portability and Accountability Act or HIPAA. Adhering to this existing legislation will be a great help to help you in avoiding potential legal issues.
Once you have determined the most effective method of teledentistry administration, train your personnel on how to advertise it and explain the advantages to existing and new patients.
Begin with a small number of patients to evaluate your teledental platform and identify any issues. This will assist you in optimizing your system prior to rolling it out to all patients.
Growing the Visibility and Relevance of Your Teledentistry Services
After implementing and operating your teledentistry system, you must now promote it to increase patient engagement. The following are some of the ways we to market your services:
Conduct promotional strategies.
Discounts might help you attract more clients who are trying to save money. Promoting your business with special offers, free consultations, and referral awards will attract a large number of potential patients.
Blog entries contribute significantly to patient education, as they can provide more information regarding the benefits that teledentistry can offer. Additionally, you may encourage patient engagement by giving self-care advice that they can incorporate into their regular dental care.
Promote patient participation.
By providing consistent, accurate updates on your teledentistry services, offering oral health tips, and keeping patients updated about other events, you can strengthen your relationships and increase the likelihood that patients will subscribe to your teledentistry services.
These suggestions can significantly aid you in establishing and marketing your teledentistry services. Teledentistry enables you to adjust to unanticipated hurdles and assist your patients without jeopardizing anyone's safety during these trying times.