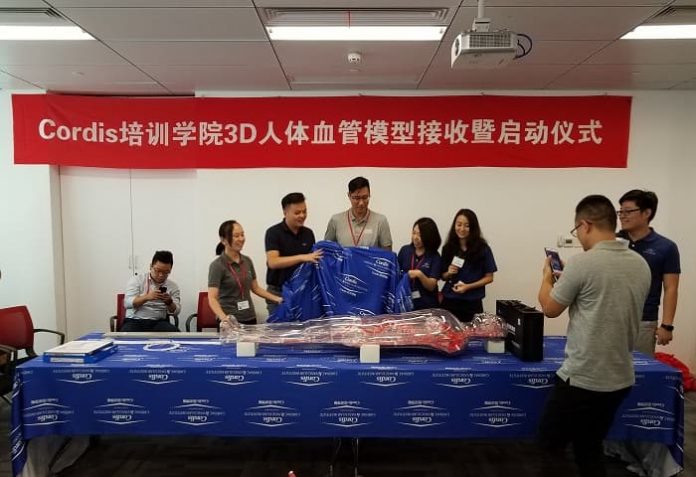 Bibbon-cutting ceremony was held by Trandomed 3D Inc in Cordis company in shanghai in 29th, august,2017.
At the beginning of ceremony, our product endo vascular simulator was displayed. It is the world first simulator which mock the complicated vasculature from cerebral part to foot, even include the upper limbs vessel.
Cordis, as the worldwide leader in the development and manufacture of interventional vascular technology,develops and manufactures medical devices for diagnostics and interventional procedures to treat patients suffering from coronary and peripheral vascular diseases. The general manager Mr Lian from Cordis, Mr Hanjun, dean of training institute and other regional managers from marketing department attended the ceremony.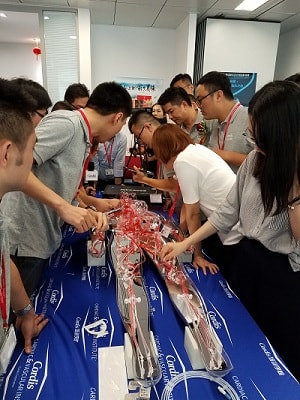 Our CEO Mr Gong , the PhD in mechanical engineering from Drexel university, attend the ceremony and address the keynote speech—3d printed silicone mock vessel and blood flow simulator for endovascular surgery simulation, which introduce the 3D silicone printing technology and its application in endovascular surgery.
After that, Mr han officially accepted the EVS simulator and said that it makes the endovacular surgery simulation move to Digital Age, which demonstrate that surgical training of Cordis training institute get into china's top list.
Particularly worth mentioning is the live ceremony broadcast drawing the drawing the attention of many professionals in the industry.
Trandomed 3D Inc has focused on medical 3D printing technology innovation and personalized medical product development for over 20 years in China. We are very proud to announce that our products and service covers 90% medical device manufacturers in China. We will continue to provide more customized solutions for Cordis training institutes.