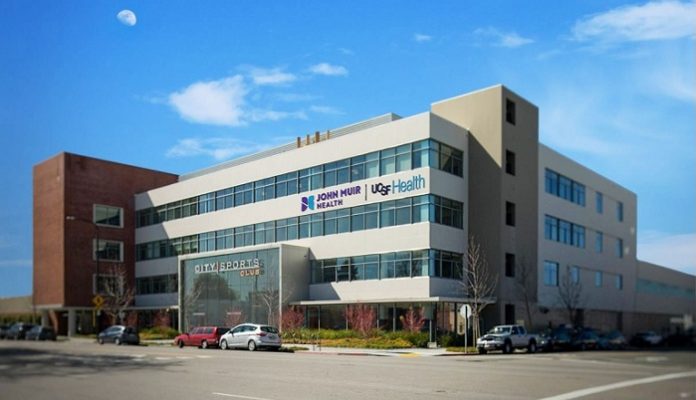 UCSF Health has been named a 2020 "LGBTQ Healthcare Equality Leader" by the Human Rights Campaign (HRC) Foundation, the educational arm of the nation's largest lesbian, gay, bisexual, transgender and queer (LGBTQ) civil rights organization.
This marks the 13th consecutive year in which UCSF Health has been recognized as an Equality Leader in the annual Healthcare Equality Index (HEI), which recognizes health care facilities for their dedication to providing inclusive care for LGBTQ patients and commitment to LGBTQ inclusion. UCSF Medical Center was the first major hospital in the nation to participate in the Index when it was created in 2007 and is the only institution to have received Equality Leader status every year since then.
exterior of building
"We are honored to have been recognized once again by the HRC Foundation for our ongoing efforts to provide the highest quality health care for our LGBTQ patients, their families and our employees," said Mark R. Laret, chief executive officer and president of UCSF Health.
"As we have seen so vividly this year, equity in both health and society is not something that we can address once and be finished," Laret said. "It requires a constant commitment not only to eliminating inequalities, but also to proactively educating ourselves, so that all members of our community feel included, respected and supported."
HEI participants are scored on more than 50 criteria for LGBTQ patient-centered care, including discrimination protections, LGBTQ-specific training, patient services and support, employee support and benefits, and a public commitment to LGBTQ equality. To receive Equality Leader status, facilities must document that they meet most of these criteria and that they publicize their commitment to non-discrimination to patients, employees and the general public.
UCSF's LGBTQ-inclusive policies, practices and training long predate the HEI. UCSF created the first dedicated LGBTQ office in health care or health education, convened the first annual LGBTQIA Health Forum for health professional students, housed the first and only Lesbian Health Research Center, and helped secure gender-affirming health coverage for all University of California students and employees, the first such coverage at any major U.S. employer.
UCSF is also renowned for its ground-breaking, life-saving leadership during the HIV/AIDS epidemic in the 1980s and beyond, via services, research, and education now clustered in the AIDS Research Institute. The UCSF School of Nursing and the Center for AIDS Prevention Studies also have led development of a new UCSF Center for Sexual and Gender Minority Health. In addition, UCSF Health's LGBTQ-centered medical services include Transgender Care, the Alliance Health Project, the Child & Adolescent Gender Center Clinic, and the 360 Wellness Center.
UCSF is not resting on its laurels, however, according to Shane Snowdon, who founded UCSF's LGBT Resource Center and returned to UCSF as a consultant in 2019 to review and optimize LGBTQ policies and practices.
"UCSF Health has undertaken a state-of-the-art, comprehensive assessment of its LGBTQ policies and practices, with the intention of offering the country's very best care to LGBTQ patients and their families," Snowdon said. "This wide-ranging assessment will help UCSF Health break new ground nationally in LGBTQ health equity, knowledge, and support."
This year, 495 facilities earned the "LGBTQ Healthcare Equality Leader" designation, receiving a maximum score in each section and earning an overall score of 100. An additional 193 facilities earned a "Top Performer" designation, receiving between 80 to 95 points. The foundation noted that 90 percent of the participating facilities scored 80 points or more, indicating that these hospitals are going "beyond the basics" when it comes to adopting policies and practices in LGBTQ care. The foundation also proactively researched key policies at more than 1,000 non-participating hospitals nationwide, where the adoption of best practices is notably lower.
"From the previously unimaginable impact of the COVID-19 pandemic to the horrific incidents of racial violence targeting the Black community, the events of the past year have brought about so much pain and uncertainty," said HRC President Alphonso David. "The health care facilities participating in the HRC Foundation's Healthcare Equality Index (HEI) are not only on the front lines of the COVID-19 pandemic, they are also making it clear from their participation in the HEI that they stand on the side of fairness and are committed to providing inclusive care to their LGBTQ patients. In addition, many have made strong statements on racial justice and equity and are engaging in efforts to address racial inequities in their institutions and their communities. We commend all of the HEI participants for their commitment to providing inclusive care for all."
UCSF Health is recognized worldwide for its innovative patient care, reflecting the latest medical knowledge, advanced technologies and pioneering research. It includes the flagship UCSF Medical Center, which is ranked among the top 10 hospitals nationwide, as well as UCSF Benioff Children's Hospitals, with campuses in San Francisco and Oakland, Langley Porter Psychiatric Hospital and Clinics, UCSF Benioff Children's Physicians and the UCSF Faculty Practice. These hospitals serve as the academic medical center of the University of California, San Francisco, which is world-renowned for its graduate-level health sciences education and biomedical research. UCSF Health has affiliations with hospitals and health organizations throughout the Bay Area.