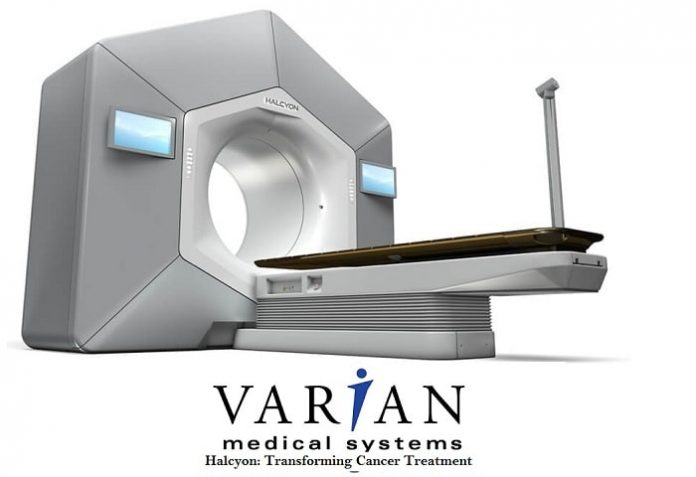 Cancer patients in the U.K. will gain access to the country's first Varian Halcyon™ radiotherapy treatment devices when the first of two systems are delivered to Queen's Hospital near London later this month. The Halcyon systems from Varian Medical Systems (NYSE: VAR) provide the opportunity for Queen's Hospital in Romford, which has one of the busiest oncology departments in the south of England, to deliver advanced, high throughput image-guided radiotherapy treatments while helping to improve patient comfort.
"The arrival of the country's first Halcyon systems is great news for local patients," says Liz Crees, head of radiotherapy physics at Queen's Hospital, part of the Barking, Havering and Redbridge University Hospitals Trust (BHRUT). "We are a big cancer center and we see a lot of patients. These new machines are designed to be very patient friendly and allow treatment to be delivered very quickly while also offering state-of-the-art cancer care." "The Halcyon systems will allow us to offer patient-centered, high quality, high speed, fully image-guided radiotherapy," added Sherif Raouf, director of cancer services at Queen's Hospital. "We look forward to having the machines operational so that we can enhance the excellence of our patient care."
Varian's Halcyon system is engineered to revolutionize clinical workflow by simplifying and enhancing virtually every aspect of image-guided volumetric intensity modulated radiotherapy (IMRT). With its streamlined workflow, Halcyon only requires nine steps from the start to the end of treatment compared to up to more than 30 steps with older technologies nearing end of life. Halcyon is well suited to treat the majority of cancer cases, offering advanced treatments for prostate, breast, head & neck, and many other forms of cancer.
"We are pleased Queen's Hospital will be one of the first centers in the world to install this new system, and that they will be able to take advantage of its many features to continue delivering high-quality care to their patients," said Adele Lyons, Varian's UK & Ireland sales director. "The goal with Halcyon was to design a treatment system that expands the availability of high-quality cancer care globally and helps save the lives of millions more cancer patients."
For more information on Halcyon, visit www.varian.com/halcyon
About Varian Medical Systems
Varian Medical Systems focuses energy on saving lives and is the world's leading manufacturer of medical devices and software for treating and managing cancer. Headquartered in Palo Alto, California, Varian employs approximately 6,600 people around the world. For more information, visit http://www.varian.com