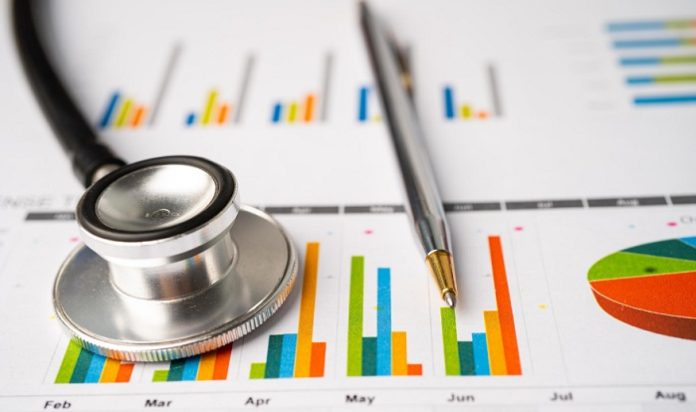 Healthcare spending is projected to increase faster than the overall economy in the next decade, influenced by the end of the COVID-19 emergency. By 2031, healthcare will account for about 20% of total US spending. However, in 2022, health spending growth stabilized while the economy grew faster. This led to a decrease in healthcare expenditures as a percentage of GDP, from 18.3% in 2021 to 17.4% in 2022.
The US spent $4.4 trillion on healthcare in the previous year. In the coming years, health spending is predicted to increase at an average annual rate of 5.4% from 2022 to 2031, surpassing the growth of GDP. By 2031, it is estimated to account for 19.6% of the nation's economy. The projected national health spending for that year is $7.2 trillion.
Anticipated changes in health spending and insurance enrollment patterns will be heavily influenced by the end of the COVID-19 public health emergency and recent healthcare-related laws. These factors are expected to have a significant impact on major payers throughout the country.
The expiration of the PHE will likely remove many Americans from Medicaid as states resume eligibility checks. This will lead to increased coverage in private health insurance until 2025 due to more generous federal subsidies. Additionally, providers will no longer receive Medicare add-on payments for COVID-19-related admissions. Medicare spending is projected to grow the fastest among all payers, with an average annual growth rate of 7.5% over the next decade. In comparison, private health insurance is expected to grow at an average of 5.4% per year, and Medicaid at 5%.
The Medicare Part D redesign is predicted to raise prescription drug spending in 2024 and 2025 by covering expenses that were previously paid out of pocket. According to insights, the negotiation and inflation rebate provisions will help reduce spending, but the exact amount of savings is uncertain and cannot be quantified.
US insured rate reached a historic high in 2022 but will likely decrease due to the end of the public health emergency and Medicaid eligibility checks. Medicaid enrollment is projected to drop from 90.4 million in 2022 to 81.1 million in 2025. 1.15 million Medicaid enrollees have already been removed. Medicaid spending growth will slow, but state funding will increase in 2024. The insured rate should stay above 90% as people transition to Affordable Care Act exchanges. Hospital spending is expected to grow faster than physician and clinical services and prescription drugs, with average growth rates of 5.8%, 5.3%, and 4.6% respectively. Hospital prices are projected to increase at a rate of 3.2%, surpassing the growth of prescription drugs at 2.2% and physician and clinical services at 2%.