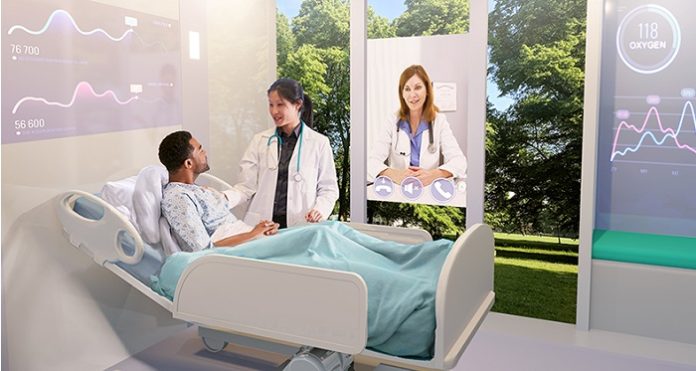 Vibe Health by eVideon, the leader in hospital smart room technology and digital workflow solutions, announces a new partnership with Aiva Health, a virtual health assistant that provides voice-powered care for hospitals and senior living communities. Through this partnership, the Vibe Health platform integrates with the Aiva platform to harness the power of voice assistants to create a contactless smart room for patients, families and clinicians.
This partnership holds the power to drastically improve labor efficiency and patient experience in the hospital setting. Voice assist technology enables patients to take care of basic needs while relieving clinicians of ancillary tasks that may have previously impacted their time caring for patients at the bedside.
"Our partnership with Aiva Health is the perfect marriage of innovation and optimization," said Jeff Fallon, Chairman and CEO of Vibe Health by eVideon. "The seamless integration with Aiva's voice-control technology unifies otherwise disparate systems in the patient room. We are putting patients in the driver's seat where they play a key role in their recovery, and we're saving clinicians valuable time throughout the day by relieving them of non-clinical tasks and enabling them to focus on direct patient care."
While voice-control in the hospital setting is rapidly expanding, consumer adoption of smart technology with voice capabilities is not new. A 2022 report by NPR and Edison Research found that 73 million Americans 18 and older own smart speakers —equivalent to 35% of the country's adult population. Though Alexa dominates the majority of the market share, competitors such as Google Home and others have made a mark as well.
"Our partnership with eVideon demonstrates how voice-control capabilities play an integral role in Smart Hospitals," said Sumeet Bhatia, Founder and CEO of Aiva Health. "Healthcare systems and technology providers need to work collaboratively to improve the patient and clinician experience. That's what this partnership is all about."
The Vibe Health and Aiva Health partnership will be displayed primarily through Vibe Health's Engage TV solution. The footwall TV is the focal point of many patient rooms, and the integration will allow patients to take advantage of patient education videos, relaxation content or entertainment by using the sound of their voice. Aiva Health can also be integrated with other in-room controls, such as dimming lights or opening blinds. Patients enjoy the independence of this technology, while clinicians benefit from the reduction in administrative tasks, freeing time to focus on delivery of high quality, clinical care.
A demonstration of this integration will be showcased at the HIMSS23 Global Health Conference & Exhibition in Chicago, April 17-21, 2023. Representatives from both Vibe Health and Aiva will be on hand at booth #8313 to show the interactive features of the technology. Vibe Health by eVideon will be the headline sponsor of the Patient Engagement 365 Pavilion, located in the North Hall of McCormick Place Convention Center.