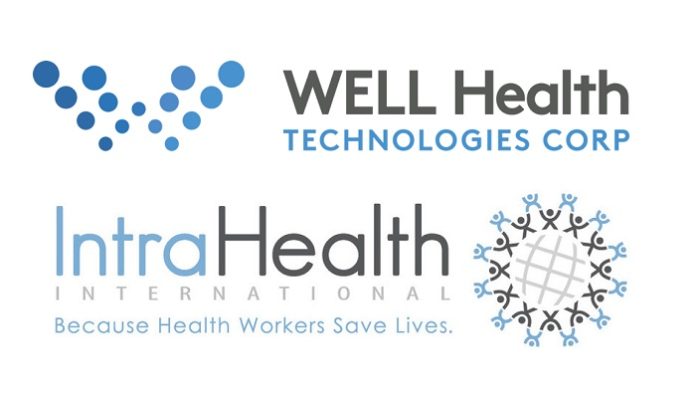 WELL Health Technologies Corp., a company focused on consolidating and modernizing clinical and digital assets within the healthcare sector, is pleased to announce it has entered into a share purchase agreement dated March 7, 2021 with the shareholders of Intrahealth Systems Limited, a New Zealand company ("Intrahealth"), whereby WELL has agreed to acquire all of the issued and outstanding shares of Intrahealth (the "Transaction") for total consideration of approximately $19,250,000. Intrahealth is a provider of enterprise class EMR(1) and clinical healthcare software with customers in Canada, New Zealand and Australia.
"The proposed acquisition of Intrahealth expands WELL into a multi-product EMR company that can service small primary healthcare clinics right up to large hospitals and health authorities," said Hamed Shahbazi, Chairman and CEO of WELL. "We are very excited about the prospect of initially expanding our global footprint into New Zealand and Australia through this acquisition and pursuing further global expansion. Intrahealth is a highly complementary acquisition which will be immediately accretive to WELL's revenue and profitability."
Founded in New Zealand, and now headquartered in Vancouver, BC, Intrahealth is engaged in the business of providing a suite of flexible software solutions to a wide variety of customers including health authorities, hospitals, public health outpatient centres, community health, home care, ambulatory care and diverse health care professionals. Intrahealth provides highly configurable software solutions that also support mobile platforms and seamless access to virtual care/telehealth solutions. Intrahealth's solutions for hospitals include patient administration system, bed management, waiting list management, enterprise-wide scheduling, case management, medication management, emergency room operations and ward management, among many other features. Intrahealth supports approximately 15,000 healthcare professionals across its global network of Canada, Australia and New Zealand providing care for millions of patients in its combined databases. Over the past 12 months, Intrahealth generated more than $9M in revenues with over 20% in EBITDA margin(2). Over 80% of Intrahealth's revenue is high margin recurring revenue.
Dr. Mark Matthews, CEO of Intrahealth commented, "We are very pleased with the prospect of joining WELL Health, as this will allow us to continue to serve our customers and enhance our product offering while being a part of the larger WELL Health ecosystem and shared services platform. We believe there are many synergies and cross selling opportunities with WELL's broader product offerings being made available to all Intrahealth customers."
Post-closing, Intrahealth is anticipated to continue to operate as a stand-alone business within the WELL EMR Group and be operated by its current CEO, Dr. Mark Matthews. Intrahealth's Profile EMR is an integrated practice management and EMR package which will be marketed and sold alongside WELL's OSCAR(3) Pro product. The proposed acquisition is a key milestone for the WELL EMR Group as it expands its addressable market to a previously unrealizable level with the restructuring to a multi-product business unit with customers worldwide. WELL also anticipates integrating Intrahealth to the apps.health marketplace in the coming months, paving the way for third party app developers to have their digital health applications available on both OSCAR Pro and Intrahealth.
Arjun Kumar, Head of WELL EMR Group commented, "We're excited to welcome Mark and the talented team at Intrahealth to the WELL EMR Group family. This transformational acquisition will firmly position WELL as an international EMR operator with multiple industry leading products. We have plans to substantially grow the WELL EMR Group organically and inorganically into additional markets. Our market opportunity will expand globally with the addition of Intrahealth to the portfolio."