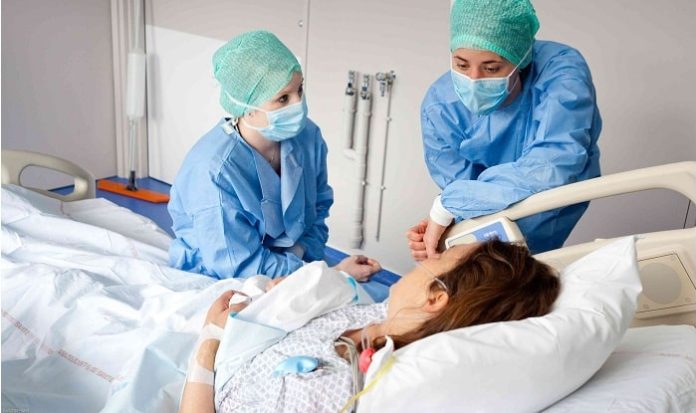 According to a new study, the healthcare workforce in the United States saw high turnover during the outset of the COVID-19 outbreak but is now returning to pre-pandemic levels, though not quite there yet. The study, which was published in the journal JAMA Health Forum, showed that the recovery has been uneven.

Researchers from the University of Washington and the University of Minnesota used data from the US Current Population Survey, as well as data from the US Census and the Bureau of Labor Statistics, to examine turnover rates between April and December 2020 and January and October 2021. They looked at 125,717 healthcare professionals' records.
According to other studies, over 1.5 million healthcare employees lost their jobs as hospitals postponed elective surgery and clinics shuttered during the pandemic's first peak. By the fall of 2020, the majority of jobs would have returned. The following year, however, the healthcare employment rate remained 2.7 percent below pre-pandemic levels.
The researchers point out that because of the method by which they conducted the study, they weren't able to immediately link work force departures to COVID-19. Apart from doctors and others who served in long-term care facilities, turnover rates peaked in the early half of the pandemic, but the working population recovered largely in the second period studied. Demographics influenced turnover rates as well. More healthcare employees with small children, both men and women, left the workforce. Women had substantially higher rate than men.
American Indians, Alaskan Natives, and Pacific Islanders had higher turnover rates than other races. During the second study period, black and Latino workers had the slowest employment recovery rates. White workers were the least likely to depart.
Turnover differed by function, with assistants and helpers being the most likely to depart during the pandemic. Even though the researchers were unable to pinpoint why people were quitting, study co-author Janette Dill, who is an associate professor in the University of Minnesota's School of Public Health's Division of Health Policy and Management, had some theories.
Wages could have been a contributing factor. As an example, she cites the high turnover in long-term care. Long-term care is mostly funded by Medicaid, and since Medicaid has low reimbursement rates, long-term care wages are also low. People may choose to quit long-term care for a variety of reasons, remarked Janette.
According to her, problems in that sector of the health-care profession preceded the pandemic, but the outbreak aggravated them. Janette added that she recently spoke with a worker who said she could obtain a job at Target for $2 more per hour than her healthcare position. Who can really blame her for wanting to leave. Right now, retail is putting a lot of pressure on long-term care because it pays higher.
The Biden administration also increased the amount of money people could receive while unemployed, which may have influenced people to leave low-paying jobs.
It could also be a matter of safety. Dill pointed out that black and Latino workers are more likely to work as assistants and aides, jobs that are at greater risk of infection and have limited access to safety clothing, particularly during the beginning of the pandemic. A disproportionate number of COVID-19 cases have also been recorded in certain areas.
White workers were much more abundant in technician, therapist, physician, and registered nurse jobs, wherein people were a little better protected. It's also possible that fatigue and a shortage of child care are to blame. April Kapu, American Association of Nurse Practitioners' President, said her group has been keeping a close eye on the labour situation.
She stated that employee attrition and recruitment have been major issues. They believe the pandemic brought to light a lot of things that were there already, added Kapu, who was not part of the new study. In terms of mental health and helping the emotional health of healthcare employees, they still have a great deal of work to do.
President Biden approved the Dr. Lorna Breen Health Care Provider Protection Legislation in March, and Kapu believes it is a step in the right direction. It gives money to programmes that help front-line health care workers get mental health treatment.
The act was named after a New York City ER doctor who committed suicide in 2020. At the start of the pandemic, she was working 18-hour days and managing an avalanche of COVID-19 patients. More funding is also needed, as per Kapu, to expand the workforce overall and to pay for education so that more people may enter the healthcare sphere. The high number of physicians who quit their positions is one of the report's results that may not be explained by wages. Even though the rate is lower than any of the other occupations, the number of physicians leaving the healthcare industry has remained high than 2019, which is exceptional.
Dill explained that physicians seldom leave their jobs. It does appear there is some dejection among physicians and that their workforce is not recuperating to pre-pandemic levels. It will be critical to track turnover in order to determine how and where to focus efforts to keep people in the healthcare field.
Waiting too long to comprehend these concerns may prolong the COVID-19 pandemic's impacts, the study concludes.