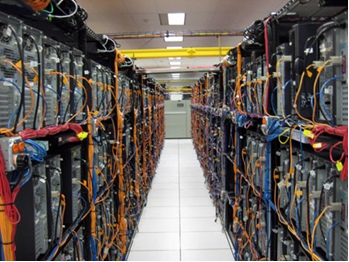 Hospital & Healthcare Management/ Healthcare Technotrend/ Hospital and Data Center – Meeting Electronic Health Record and IT Need:-

Hospitals are aggressively competing to become compliant with the information technology platform proposed by the federal government. Currently IT communication platforms have a growth rate of 50% annually, and it's estimated that more than 3 trillion bits of data are created every second. The spectrum of technology and standards for secure, intelligent, flexible and scalable systems can be overwhelming. The HITECH Act, part of the American Recovery and Reinvestment Act, mandates hospitals meet federal records security requirements.
Progress West Healthcare Center recently completed a $30 million, 40,000 square foot facility, seen as a benchmark for data center maturity. The facility was built to accommodate the growing demand and utilization of automated hospital systems and electronic health records. The complex integration of 1,850 servers communicating through more than 425,000 feet of copper and fiber cablings, linking 345 databases exemplifies a forward thinking systematic preparation for ever-changing technology requirements anticipated for the next 20 years.According to Dave Goerke of Dave Goerke Associates , "It has been our experience that data centers created for healthcare information systems, because of the profound private information component, need to be held to a higher standard than other sectors we serve." Many factors influence the design and physical location of such a proprietary structure. A prime example, and case study of a hospital implementing a state-of-the-art data center to house information technology needs are Progress West Healthcare Center in O'Fallon Missouri.
The proposition Progress West Healthcare Center is facing will become commonplace as health systems begin to renovate and construct new data centers. Transferring information from its current and primary data center will be a continuous and ongoing process expected to take several years. Project manager Brian Ronning said the transfer of 100-120 antiquated servers will be a phased-in approach. "The design and plans are developed in a modular approach to allow growth and to allow equipment to be moved to the new data center over time."
As hospitals' technological environments become more progressively sophisticated, asking purposely specific needs design questions is principal. It is imperative that the total breadth of the project be considered both from a physical and idealistic platform. The spectrum of professional consultation begins with the mechanical application from the physical plant considerations and travels through the "cloud" concepts of data storage management. The first step is to realize the overwhelming proposition created by healthcare information demands, and then to associate with experienced professionals in multiple disciplines to implement a methodical strategic process.