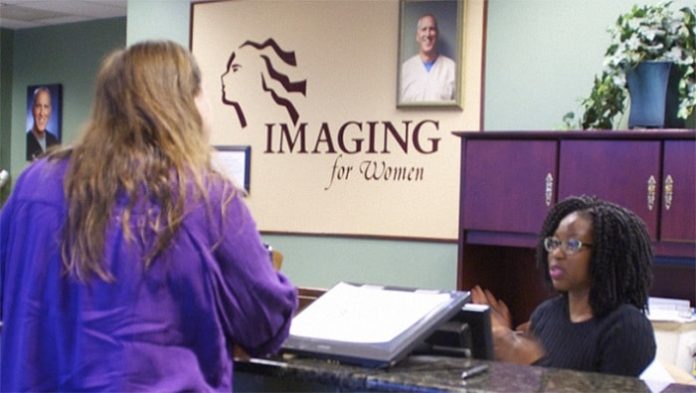 The center is reaping the benefits of handing patients an iPad, including improved allocation of staff and receptionists time.

The vast majority of physician offices and clinics still process registration paperwork manually. But more and more healthcare organizations have transitioned to a digital intake. Automation of the registration process can reduce the amount of staff time devoted to this task thus allowing some staffers to be deployed to other tasks. And patient wait times can improve.
That's what Kansas City, Missouri-based Imaging for Women, a standalone imaging center that performs 50,000 procedures per year in a spa-like setting, discovered when it automated registration.
Patient wait times declined by five to eight minutes per patient, three to four hours of staff time were saved per month, the number of receptionists needed to staff the front desk was reduced from four to two or three, there was increased accuracy with fewer typos and other mistakes, and there will be easier quality reporting because the technology is integrated with the center's EHR which will make it easier for the center to comply with upcoming MACRA/MIPS quality reporting regulations, said Phyllis Fulk, administrator of Imaging for Women.
"Previously, our receptionists would complete the process by asking the patients the questions to complete the check-in process and then display the information on a tablet for the patient to sign all of the necessary forms and verify that the information was correct," Fulk said. "Today, the receptionists hand each patient an iPad and he or she completes nearly all of the applicable forms without intervention from the clinic staff."
Imaging for Women uses automated registration technology from GetWellNetwork, a patient engagement company that specializes in digital registration via kiosks and tablets. There are many registration software vendors with automated registration tools on the market, including ABC Signup, ePly, etouches, GoSignMeUp, OnBase by Hyland, RedPodium, RegFox, Regpak, Xerox and Yosi.
At Imaging for Women, when a patient receives an iPad, she simply presses Start at the top of the screen and that takes her to a page for entering demographics. She is able to review her information and update anything as needed. Patients have had a very positive response, Fulk said.
"With tablet-based registration, we were able to reduce staff members because one team member has the capability to check in multiple patients at the same time," she said. "Once the staff member selects the patient's name, they can take the tablet and finish checking in at their own pace. Giving the patient control of their forms allows the front desk staff to see more patients in a shorter time."
The information the patient enters into the tablet populates the MedInformatix EHR when the patient completes the check-in process. This is beneficial to the center because it saves staff member time by not having to enter everything manually. A signed copy of each form completed by the patient also is saved to the patient's chart.