Dr. Guo Hui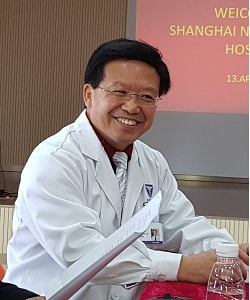 Dr. Guo Hui is the Founder, Chairman & Director of Shanghai Neuromedical Center, and the winner of 2015 Shanghai "Top Ten doctors" nomination award.

After obtaining a PhD degree from the School of Medicine at the Shanghai Jiaotong University. Guo Hui went to United States to pursue a postdoctoral degree at the University of California San Francisco.

After graduating he served as an assistant professor of neurosurgery at New York University Medical Center, but when he came to know about "outstanding overseas talent introduction plan" launched in his country by the State Ministry of Education he decided to return back to China and thereafter, he had served as director of neurosurgery, leader of functional neurosurgery and director of the wards & laboratories at Beijing Hospital and Shanghai Tongji University Affiliated Hospital of East China in succession.
Dr. Guo Hui has been engaged in neurosurgery treatment and research for more than 20 years since 1993. He is especially adept at treatment of functional neurological diseases, such as: epilepsy, Parkinson's disease and cerebral palsy as well as other neurosurgical diseases. The operation quantity and clinical therapeutic effect of epilepsy surgery performed by Dr. Guo Hui, ranking the leading position in Shanghai, have reached internationally advanced levels.
Shanghai  Neuromedical Center was founded in 2013, and has been noted as a key livelihood project of the 12th Five-Year Plan of the government of Putuo District, and of the designated public healthcare hospitals in Shanghai. Equipped with about 350 beds, it is a specialist hospital built on the scale of tertiary specialized hospital standards and excels in several comprehensive key areas, especially clinical neuroscience.
In 2017, Shanghai Neuromedical Center became the Shanghai Clinical Medical School of Qingdao University (the Ninth School of Clinical Medicine). It is the only one of the proprietary hospitals in Shanghai to recruit postgraduates and post-doctoral students, and to realize the key university teaching hospital from undergraduates - postgraduates - post-doctoral training.
Key areas of Shanghai Neuromedical Center include functional Neurosurgery, Neurosurgery, internal neurology, neurorehabilitation and emergency intensive healthcare. But it's not just a specialist hospital. In accordance with the standards of general hospitals, Shanghai Neuromedical Center has setup key departments such as cardiology, general medicine, general surgery, triage, orthopaedics, pain rehabilitation, TCM orthopaedics & traumatology, medical nutrition.
Its performance results for tumor operations on the spinal cord and brain rank among the top in the country, and epilepsy surgery operations have reached internationally advanced levels.
It is the top - ranking Shanghai hospital in providing a ketogenic diet for the treatment of refractory epilepsy in children and malignant tumors. It also possesses Asian's largest nerve electrophysiology center. Introduce the first neurosurgery operating robot-ROSA in Shanghai and other six provinces of east China. All directors of the departments in Shanghai Neuromedical Center are from the tertiary hospitals.
At present among the leaders of all disciplines, there are 1 current national director, 1 former national director, 6 national committee members, and 3 shanghai Municipal committee members. Among them, 8 deans enroll postgraduates and 3 deans recruit post- doctoral students.
Awards & Recognitions
Professor Xingzhou Liu, director of the national institute of electrophysiology, won the second prize of national science and technology progress.
Professor Hui Guo won the nomination of ''Top Ten doctors'' in Shanghai.
Professor Qiwu Xu won the medal of Labor Day in Shanghai
The Nursing Department won the Women's Civilization Station in Shanghai.
Shanghai Neuro medical Center obtained the civilized unit in Shanghai health system.
The Party branch won the "two new" organization excellent party construction cooperation project and the party building position construction demonstration window.
The Party branch, Website won the excellent branch we Shanghai several times.
Youth league general branch was awarded the Youth Civilization Unit of Shanghai.
Shanghai Neuromedical Center based on the continuous progress of clinical medicine, teaching and scientific research, the famous clinical neurology center in China and other countries will be built.
"We are making great efforts to establish a hospital for 95% of the common people in China to see the doctor, and create the best hospital in which the employees own happiness."