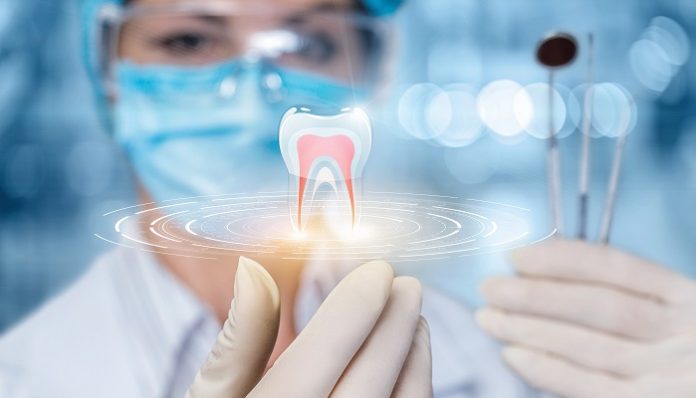 Though dentists are not considered a part of a doctor's family, there are different species of doctors who deal with important organs. And among them, teeth come at the end of the list.
After all, it's pretty easy to forget that teeth are key to maintaining your face's shape and help you chew your food easily.
I mean, imagine us having no teeth.
Can you enjoy your steak by turning it into liquid? You can't, right?
Therefore, for the wellness of our teeth, we need a dentist—experts who can cure the illness and irregularities of teeth through a specific technique, known as dental implants.
But, what does it mean, really? What may the procedure entail?
Should you be concerned about anything related to the implant or how it works?
Let's get to know more about it.
What Are Dental Implants?
A dental implant is a structure that substitutes for the missing tooth, kind of  like a prosthetic tooth. During the procedure, surgeons place a screw-like device inside the jaw, acting as the anchor or base of the tooth and the crown.
There is also an abutment device involved in this matter that acts as a connector for the artificial teeth that have been placed inside of your gum.
After it's done, then, a crown is custom-made to fit into the mouth to add a finishing touch to the implant. This offers a natural feel on how you usually use your teeth while eating.
Anyway… So, basically, there are two types of dental implants –
Endosteal implants, where the dentist adds the implant in the jawbone, and each can hold one or more artificial teeth. This is a common type of dental surgery done by surgeons. And the other one is –
A subperiosteal implant is a type of surgery where the dental surgeon adds the implant to the top of the jaw bone. This one is for people who do not have height on their jawbone.
Advantages of Teeth Implants
There are many advantages of dental implants that help to function properly. Here are a few of them –
Improves Speech 
Not everyone has a coach like Lionel Logue, who helped King George VI to overcome his speech problem. Therefore, you need to have perfectly placed teeth to talk properly.
Often, when you lose teeth, the gap between the teeth affects the way you speak. They act as shields to stop from mumbling or fumbling words.
But, this will not be the case with dental implants Chicago. The experts in the institute are capable of adding a high-quality implant and, therefore, will ensure that you can easily speak what you like and in whatever voice you want.
Easier Eating 
If only you don't fall very sick, you cannot enjoy every delicacy in the liquid state. It's hard, I know. Therefore, you need teeth to help you chew and enjoy different dishes. Side dentures mainly do this job of chewing. Imagine if you miss one, then chewing can be difficult.
Hence, to free you from these problems, dental implants offer you the solution to fill the gap between teeth. This way, you can enjoy your milkshakes and have burgers and steaks.
Durability 
Before investing in something, we always view the long-term benefits of the thing. Otherwise, it is a waste of money and resources.
Similarly, before undertaking surgery on the teeth, we try to figure out the durability of artificial teeth. It is because all medical insurance doesn't cover dental, and you don't want to invest in surgery every year.
But with a proper dental implant, you can erase that tension. This is because if you take care of the implant correctly, it can last a lifetime.
Now, you must be curious to know how the implants are done. What is the procedure?
Worry not. I got you covered. Here are –
Step By Step Guide For Dental Implants
To conduct any surgery, a procedure is mandatory for every dental surgeon to follow. Therefore, during a dental implant following things are taken into consideration –
Damaged tooth removal
Dental implant surgery
Bone growth and healing
Abutment Placement
This help in conducting a high surgery on the jaw bone and help it to move freely.
So, here is the step-by-step guide for good teeth implants –
Step 1: X-Ray
Before dentists bring their scalps and other tools to dig deep in the mouth, they need to conduct an x-ray of the teeth. This will help them understand the teeth' condition and the required surgery.
X-ray gives the road map for teeth specialists to conduct their surgery as the sheet will inform them about minute detail of the jawbone. The aforesaid information will help the implant in or on the jawbone.
Step 2: Extracting Tooth 
In the second step, doctors will examine the patient's teeth properly to understand the tooth that needs uprooting.
For this, the doctor might look at your dental condition of the patients and determine if you need any of the following or not –
One tooth implant
Two tooth implants
Or, Multiple tooth implants
According to the needs, your physician will extract the damaged teeth from the jaw.
Step 3: Implant Placement 
It is the stage where the real action starts, as the dentist begins the implant procedure. They use anesthesia to numb the patient's senses to ensure they don't feel pain.
The oral surgeon then cuts the bone through drillings and clears the space to place the artificial teeth. They remove the jaw bone layers to ensure the setting is in order.
They will also add metal in the gap to feel like teeth. Though at first, it will make you feel a bit uncomfortable, it will act as normal later on.
Step 4: After Implants 
After the implants are in order, it takes time for the tooth to function properly.
During the first few days, there'll be some stitches.
After 10 or 14 days, as per the condition of the teeth, the stitches are removed. Once the stitches are gone, you can continue with the normal functions of eating and talking.
After five or six months, an impression of the teeth ensures that it's in order. For this, you need to visit your dentist twice a year so that it looks good and healthy.
Wrapping Up 
Ultimately, you should look for a good dentist to ensure the implantation process is correctly placed. Otherwise, it can lead to high pain or damage to your jawbone. Also, take proper precautions after implantation is done. That way, you can protect the health of your teeth.