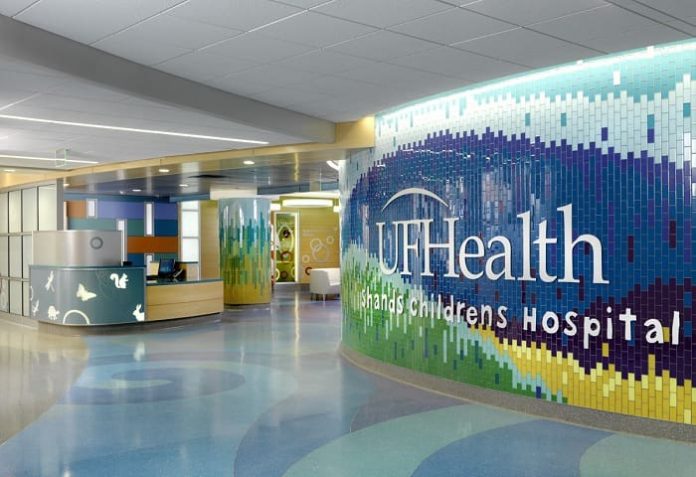 University of Florida Health has purchased and installed 16 CARESTREAM DRX-Revolution Mobile X-ray Systems ( video)at UF Health Shands Hospital, UF Health Shands Cancer Hospital and the new UF Health Heart & Vascular and Neuromedicine hospitals that opened in December. These facilities have a combined total of 1,091 beds.
University of Florida Health Hospitals
These portable imaging systems are used around the clock to perform diagnostic imaging exams in multiple ICU, NICU, OR, ER, burn ICU and pediatric ER areas, as well as inpatient rooms. Both UF Health's main hospital and cancer hospital average more than 6,650 mobile X-ray exams per month.
Radiographers use CARESTREAM DRX Plus and DRX 2530C cesium detectors in standard and small-format sizes to address the varied imaging needs involved in providing specialty care to a diverse patient population.
"Our team decided to select a single supplier for the hospitals to enhance ease of use and productivity. We conducted a thorough comparison of portable imaging systems and unanimously selected the DRX-Revolution platform," said Jennifer Sirera, Technical Director-Radiology, UF Health Shands Hospital.
"Our staff appreciates the image quality and the maneuverability, extended tube reach, compact size and collapsible tower offered by the DRX-Revolution," Ms. Sirera adds.
Technologists can view images and change techniques on a tube-based touch screen for increased efficiency and convenience. Being able to use any DRX detector in any DRX imaging system helps ensure continuous uptime and greater imaging flexibility, according to Ms. Sirera.
About University of Florida Health Shands Hospital
University of Florida Health Shands Hospital is among the nation's best in six adult medical specialties in the 2017-2018 U.S. News & World Report ranking of U.S. hospitals that was released Aug. 8. For the third year in a row, UF Health Shands ranked in more adult and pediatric specialties than any other hospital in Florida—a total of 12, factoring in pediatric rankings released June 27, 2017. For more information please visit www.ufhealth.org.