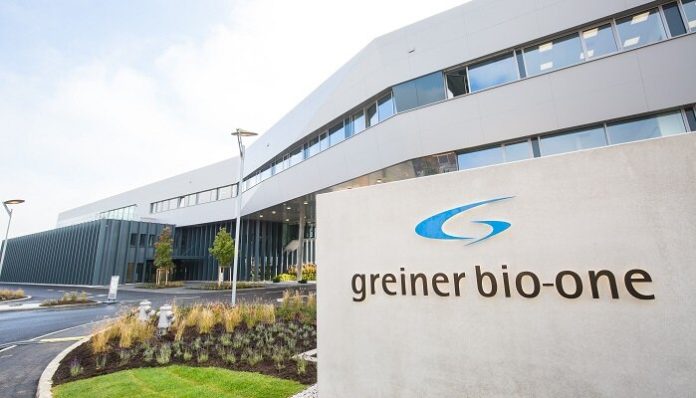 Greiner Bio-One looks back on a positive business year, with the turnover of 693 million euros exceeding expectations.
Kremsmünster, May 2023 The year's geopolitical events stirred up uncertainty and unrest in the global markets and had an additional negative impact on supply chains which had already been disrupted due to the COVID-19 pandemic. However, orders for some product groups – such as blood collection tubes, safety products and HTS plates – went up significantly.
Performance in 2022
In 2022, Greiner Bio-One generated a turnover of 693 million euros (- 0.4 %; FY 2021: EUR 695 million) and had 2,794 employees, 29 subsidiaries and numerous distribution partners in over 100 countries. The figure was above expectations. The previous year was heavily influenced by a high level of demand for VACUETTE® virus stabilization tubes (VST). As expected, the COVID-19 pandemic subsided after the first quarter of 2022 as demand for virus stabilization tubes went down significantly.
Demand for our standard products remained high
Orders for some product groups such as blood collection tubes, safety products and HTS plates – went up significantly. The company also expanded its production capacities for a wide range of core products, such as blood collection tubes, at its international sites. The BioScience business unit enhanced its production technologies and expanded its capacity in a targeted manner to meet the dynamic requirements of the market and achieve its strategic goal.
Understanding of sustainability underlined
Greiner Bio-One is continuing to work towards the sustainability goals outlined in the Greiner Group's "Blue Plan." The company aims to become climate neutral (Scope 1 and 2), implement a circular economy, and develop a team that is prepared to meet future challenges all by 2030. The main focus of attention last year included raising awareness of sustainability and increasing the visibility of the issue. Sustainability is an overarching goal for Greiner Bio-One, and one that the company approaches from three different angles: the environment, people and ethics. Greiner Bio-One has incorporated sustainability into its eight value propositions for customers. These values define what Greiner Bio-One stands for and highlight what customers can rely on when they deal with the company.
Outlook for 2023: significant investment in the future
Greiner Bio-One will concentrate on continued growth and expanding its market share in 2023, particularly in its strategically important regions of North America and Asia. To achieve this aim, the company will continue to capitalize on the trends that are driving growth, including high throughput screening, cell therapy, 3D cell culture and digital preanalytics. Greiner Bio-One