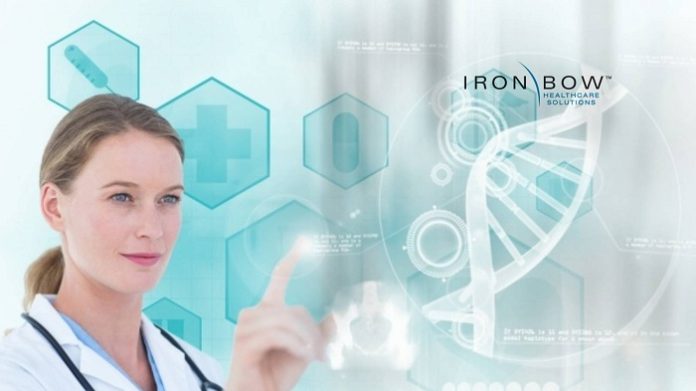 Caregility, a clinical collaboration and communications company moving the access point of care closer to the patient, announces a partnership with Iron Bow Healthcare Solutions , a leading technology solutions provider to healthcare, government and commercial markets. The partnership will make Caregility's UHETM telehealth platform software available through Iron Bow's MedViewTM and CLINiCTM virtual care endpoints, bringing health system clients a complete teleheatlh solution that includes purpose-built tools for virtual patient observation.
Iron Bow's MedView couples with existing in-patient room infotainment screens to deliver enterprise telehealth capabilities to each patient bedside. The CLINiC is configured specifically for patient observation when an existing monitor may not be available in the room. Units include a zoom camera with infrared illumination and automatic activation in low light conditions. The endpoints support Caregility's iObserver software to enable visual viewing of up to 12 at-risk patients on a single, central monitoring system. This system adds a second layer of support for patients and clinical staff, reducing adverse events while optimizing scarce resources.
The companies worked together to enable Caregility's software to be installed on Iron Bow's devices including features such as far-end camera control and the ability to monitor aspects of the device's performance.
"We are honored to be a partner with such a prestigious organization as Iron Bow," said Michael Brandofino, Caregility's President and COO. "Our partnership with Iron Bow represents the first time we have enabled another company's devices to be able to work with our platform and we are excited to work closely with Iron Bow to expand our opportunity to help providers leverage virtual care."
"We share the common goal with Caregility to help our customers expand the use of virtual care in order to improve patient outcomes," said Scott Sanner, General Manager for Iron Bow Healthcare and Civilian Agencies. "Our combined expertise and focus on the healthcare space along with Caregilty's growing popularity in both the commercial and federal space makes them a perfect partner for us."
To learn more about Iron Bow's enterprise telehealth capabilities, visit https://ironbowhealthcare.com/. To learn more about Caregility's UHE platform that provides video-enabled communications tools to empower clinicians, patients, care coordinators, family members and virtual sitters, call 732-440-8040 or visit https://caregility.com/.
About Caregility
Caregility (www.caregility.com) is a clinical collaboration and communications company moving the access point of care closer to the patient. Leveraging over eight years of experience in clinical environments, Caregility's core telehealth offering, the UHE Platform, is a purpose-built ecosystem for the entire healthcare continuum. The UHE Platform provides secure, reliable two-way audio and video communication designed for any device and clinical workflow, in both inpatient and outpatient settings. Today, Caregility supports more than 2 million video sessions annually and has deployed over 9,000 access points of care systems across the US. From critical and acute, to urgent and emergent, to post-acute and ambulatory, and to the home, Caregility is helping transform the delivery of patient care everywhere. Follow Caregility on Twitter @caregility.
About Iron Bow Healthcare Solutions
Iron Bow Healthcare Solutions is a leading IT solution provider dedicated to successfully transforming clients' technology investments into robust business capabilities. Working with healthcare, government and commercial clients, Iron Bow brings a depth of technical expertise as well as domain and market knowledge to deliver the right solution to achieve desired business outcomes. Iron Bow Healthcare Solutions empowers providers and patients through the implementation of telehealth. Through our knowledge of the healthcare industry, the depth of our technical expertise, and our workflow process awareness, we enable enhanced patient outcomes through increased access to remote care. Learn more at https://ironbowhealthcare.com/
Caregility Contact: