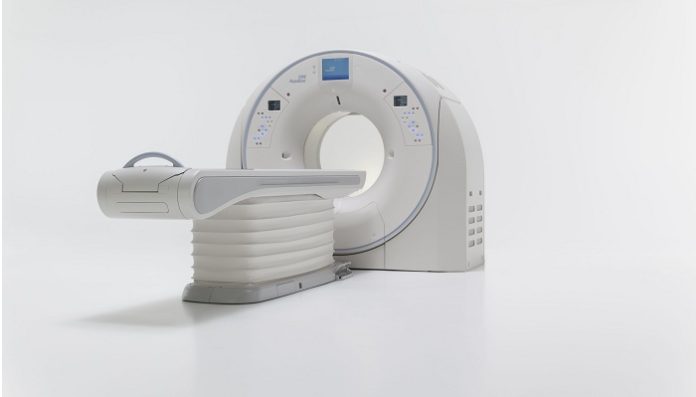 Canon Medical Systems USA, Inc. has received 510(k) clearance on its Advanced Intelligent Clear-IQ Engine (AiCE) for the Aquilion Precision further expanding access to its new deep convolutional neural network (DCNN) image reconstruction technology. This technology, now available on both the Aquilion Precision and Aquilion ONE / GENESIS EditionTM premium CT systems, uses a deep learning algorithm to differentiate signal from noise so that it can suppress noise while enhancing signal, forging a new frontier for CT image reconstruction.
Aquilion Precision – the world's first Ultra-High Resolution CT provides 2 times the resolution of conventional CT, revealing detail that is typically only seen in Cath labs. With AiCE, the system now enables clinicians to perform super-high resolution studies at doses equivalent to standard resolution CT (with traditional hybrid iterative reconstruction techniques). AiCE learns from the high image quality of Model Based Iterative Reconstruction (MBIR) to reconstruct CT images with improved high contrast spatial resolution*.
"As we strive for precision medicine, we realize the importance of starting with the foundation of a precise diagnosis. Canon Medical is committed to developing intelligent solutions that help providers generate clearer, more holistic images to help achieve better outcomes, without increasing dose," said Tim Nicholson, acting managing director, CT Business Unit, Canon Medical Systems USA. "This technology represents a new era in image reconstruction, which may help provide more possibilities in improving patient care than ever before."
About Canon Medical Systems USA, Inc.
Canon Medical Systems USA, Inc., headquartered in Tustin, Calif., markets, sells, distributes and services radiology and cardiovascular systems, including CT, MR, ultrasound, X-ray and interventional X-ray equipment. For more information, visit Canon Medical Systems' website at https://us.medical.canon.
About Canon Medical Systems Corporation
Canon Medical offers a full range of diagnostic medical imaging solutions including CT, X-Ray, Ultrasound and MR, across the globe. In line with our continued Made for Life philosophy, patients are at the heart of everything we do. Our mission is to provide medical professionals with solutions that support their efforts in contributing to the health and wellbeing of patients worldwide. Our goal is to deliver optimum health opportunities for patients through uncompromised performance, comfort and safety features.
At Canon Medical, we work hand in hand with our partners – our medical, academic and research community. We build relationships based on transparency, trust and respect. Together as one, we strive to create industry-leading solutions that deliver an enriched quality of life. For more information, visit the Canon Medical website: https://global.medical.canon