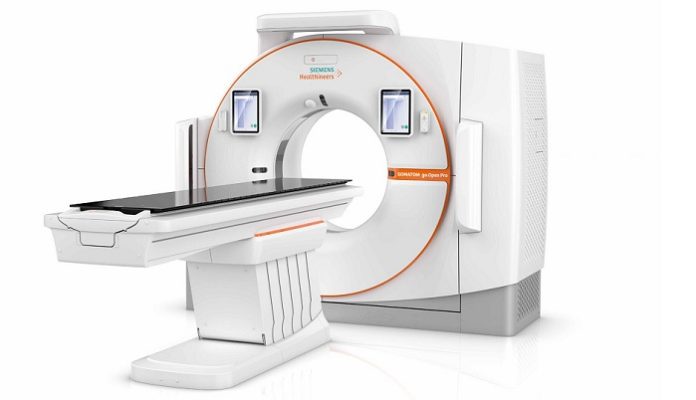 The U.S. FDA has cleared the SOMATOM go.Sim and SOMATOM go.Open Pro – two computed tomography (CT) systems from Siemens Healthineers that are dedicated for radiation therapy (RT) planning.

The 64-slice SOMATOM go.Sim and 128-slice SOMATOM go.Open Pro are members of the SOMATOM go. platform, which was created to limit potential errors in radiation therapy planning and reduce time to treatment. The platform integrates hardware and software components such as patient marking lasers and automated quality assurance to simplify the treatment planning process, while the 85 cm bore accommodates positioning accessories and improves patient comfort. An innovative mobile workflow walks the radiation therapist through the setup process while the therapist remains with the patient to reduce anxiety.
Since 75 percent of respiratory patients breathe irregularly, motion artifacts often appear in 4D image sets. The Direct Intelligent 4D (Direct i4D) technology of the SOMATOM go.Open Pro adapts image acquisition to patient breathing in real time to reduce those artifacts. Reducing unwarranted variations in the images can potentially decrease target margins, thereby sparing healthy tissue.
"With the FDA clearance of the SOMATOM go.Sim and SOMATOM go.Open Pro, Siemens Healthineers offers our customers revolutionary technology for radiation therapy planning," said Hanno Dotzel, Vice President of Surgery and Cancer Therapy in the Advanced Therapies business at Siemens Healthineers North America. "The new i4D technology can help our customers dramatically reduce image artifacts, enabling them to reach a new level of precision in radiation therapy treatment planning."