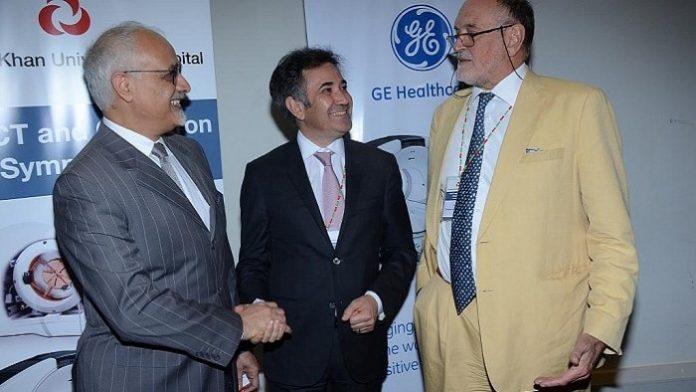 The symposium focused on PET CT and Cyclotron diagnostics in anticipation to the first to be launched at Aga Khan University Hospital, a first in Sub-Saharan Africa excluding South Africa; Over 200 healthcare specialists from across East Africa and two world renowned cancer experts were in attendance.
Aga Khan University Hospital (AKU) and General Electric Healthcare (GE Healthcare) (www.GEHealthcare.com) hosted a PET CT and Cyclotron Symposium to drive dialogue on latest innovations and interventions in early cancer diagnosis and detection. The symposium was held to bridge the knowledge gap in the field. Aga Khan University Hospital (AKUH) in Nairobi has acquired an ultra-modern Positron Emission Tomography (PET) CT scanner and Cyclotron from GE Healthcare. No longer will people need to leave the region in order to benefit from its life-saving diagnostic capabilities. The acquisition of this highly specialised system by AKUH, reaffirms its premier status as the leading provider of quality clinical care, teaching and research in sub-Saharan Africa.
The symposium was attended by university faculty, radiologists and cancer specialists from the East Africa region. Key notes presentations were delivered by world renown Professor Gustav von Schulthess, Chairman and head of department of Medical Radiology at the University Hospital of Zurich and Professor Mansoor Saleh, Senior Scientist and Professor of Medicine in the Division of Hematology/Oncology in the University of Alabama at Birmingham USA. Professor Von Schulthess also hosted a webinar on The Impact of Molecular Imaging on Disease Evaluation Contents.
Aga Khan University (AKU) is committed to health professional education – from students in medicine, nursing and other health science professions and to the continuing education of health professionals in practice, supporting the building of health expertise in the region.
Professor Robert Armstrong Founding Dean, (AKU) Medical College in East Africa said "In addition to establishing the PET-CT service, we will establish in our hospital a new Department of Oncology that will provide a high quality integrated model of care that will be focused on continuous learning, developing and sharing best practice, and focused on the continuum of patient care. Closely linked to this will be a significant investment in creating a Centre for Oncology Research – ensuring that we are contributing to the development of research capacity in this field and that we can address the unique issues that present in the context of the communities of East Africa."
The PET CT machine is a molecular imaging system that gives an accurate indication of the progress of the disease in its earliest stages. The clarity of this technology enables clinicians to confidently evaluate a patient's response to cancer treatment, reducing on unnecessary procedures and cost of treatment.
President and CEO GE Africa and GE Healthcare, Africa Farid Fezoua said: "We are very happy to collaborate with the Aga Khan University Hospital to deliver the first PET CT and Cyclotron in Sub-Sahara Africa excluding South Africa, which will potentially impact over 800 million people. Today's symposium is an important part in this huge milestone, to drive dialogue in the fight against cancer and equip healthcare professionals with knowledge in such advanced technologies."
According to World Health Organisation, cancer is the second leading cause of death globally and 70% of deaths from cancer occur in low- and middle-income countries. About 70% of cancer patients don't respond to their initial chemotherapy. Clear technology through PET CT and Cyclotron helps match the right therapy to the right patient, ensuring personalized care, and enabling clinicians to confidently evaluate a patient's response to cancer treatment.
The PET CT and Cyclotron Symposium is part of GE Healthcare's commitment to support education and training through leveraging its innovation and expertise in designing and running relevant courses in Healthcare. In 2016, GE inaugurated a healthcare training and skills institute in Kenya designed to train health professionals. Over 1,000 professionals have benefited from the institute since its launch. Recently, GE Healthcare also signed a partnership with the Society of Radiography in Kenya (SORK) to equip a minimum of 140 radiographers on the latest radiography technologies.
About the Aga Khan University:
Chartered in 1983, the Aga Khan University (www.AKU.edu) is a private, autonomous university that promotes human welfare through research, teaching and community service initiatives. Based on the principles of quality, access, impact and relevance, the university has campuses and programmes in Kenya, Tanzania, Uganda, the United Kingdom, Afghanistan and Pakistan. Its facilities include teaching hospitals, Faculties of Health Sciences with Schools of Nursing and Midwifery and Medical Colleges, Institutes for Educational Development, an Examination Board and an Institute for the Study of Muslim Civilisations. A Graduate School of Media and Communications, an East African Institute and an Institute for Human Development are under development while Faculties of Arts and Sciences are to be set up in Pakistan and East Africa. Through its needs-blind admissions policy, the University imbues the most promising leaders and thinkers of tomorrow with an ethic of service and the skills to help communities solve their most pressing challenges.
The Aga Khan University is one of nine agencies in the Aga Khan Development Network, a group of private development agencies with mandates ranging from health and education to architecture, culture, microfinance, rural development, disaster reduction, and the promotion of private-sector enterprise and the revitalisation of historic cities. www.AKU.edu