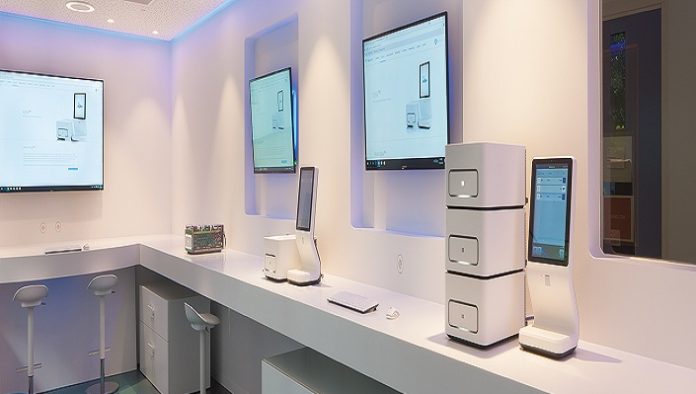 Genomic Health, Inc., the world's leading provider of genomic-based diagnostic tests and BiocartisGroup NV, an innovative molecular diagnostics company, announced they have expanded their exclusive collaboration into the field of urology with the development of an in vitro diagnostic (IVD) version of the Oncotype DX® Genomic Prostate Score® (GPS™) test on Biocartis' Idylla™ platform and potentially additional cancer tests that can be performed locally by laboratory partners and in hospitals around the world.
Prostate cancer is the most common cancer among men and can often be treated successfully. The Oncotype DX GPS test is the only commercially available tissue biopsy-based, multi-gene test that has been clinically validated to assess the aggressiveness of prostate cancer in men with clinically low-risk or favorable intermediate-risk cancer at the time of diagnosis, helping make better informed and more personalized treatment decisions. The test has been validated in more than 4,500 patients, as described in 18 publications.
The Idylla Oncotype DX GPS test will be the first urology test to be developed on Biocartis' fully- automated, PCR-based Idylla platform, which offers a unique sample-to-result molecular diagnostics solution. Through this development, Genomic Health intends to enable local pathology labs and urology centers to generate accurate Oncotype DX GPS test results with efficient turnaround time and the consistent high quality and clinical utility that physicians and patients have come to expect when making treatment decisions with Oncotype DX.
"Today's announcement follows the successful progress in our development of an IVD version of the Oncotype DX Breast Recurrence Score test on Biocartis' Idylla platform, which we announced last year," said Frederic Pla, Ph.D., chief operating officer of Genomic Health. "Expanding our collaboration to initiate development of the Oncotype DX GPS test on this fully automated sample-to-answer platform reflects our confidence in the Idylla platform as a best-in-class solution to accelerate access to Oncotype tests around the world."
Herman Verrelst, chief executive officer of Biocartis, commented: "I am very happy to announce the expansion of our collaboration with Genomic Health, with whom we are now entering the domain of urological cancer testing, which is a promising new market for Idylla. Once available, the Idylla Oncotype DX GPS test can support pathology labs and local urology centers across the world in making better informed treatment decisions for patients with prostate cancer."
The expanded collaboration will provide Genomic Health with exclusive worldwide rights to develop and commercialize its Oncotype DX GPS test on the Idylla platform, with the option to expand the collaboration to include additional tests in oncology and urology. Development of the IVD version of the GPS test is expected to begin in early 2019.
As part of the agreement, Genomic Health will make a payment of EUR 2.5 million to Biocartis, which is expected to be expensed in the fourth quarter of 2018. Upon commercialization, Genomic Health will make royalty payments to Biocartis based on net sales.
About Genomic Health
Genomic Health, Inc. is the world's leading provider of genomic-based diagnostic tests that help optimize cancer care, including addressing the overtreatment of the disease, one of the greatest issues in healthcare today. With its Oncotype IQ® Genomic Intelligence Platform, the company is applying its world-class scientific and commercial expertise and infrastructure to lead the translation of clinical and genomic big data into actionable results for treatment planning throughout the cancer patient journey, from diagnosis to treatment selection and monitoring. The Oncotype IQ portfolio of genomic tests and services currently consists of the company's flagship line of Oncotype DX® gene expression tests that have been used to guide treatment decisions for more than 900,000 cancer patients worldwide. Genomic Health is expanding its test portfolio to include additional liquid- and tissue-based tests, including the recently launched Oncotype DX® AR-V7 Nucleus Detect™ test. The company is based in Redwood City, California, with international headquarters in Geneva, Switzerland. For more information, please visit, www.GenomicHealth.com
About Biocartis
Biocartis is an innovative molecular diagnostics (MDx) company providing next generation diagnostic solutions aimed at improving clinical practice for the benefit of patients, clinicians, payers and industry. Biocartis' proprietary MDx Idylla™ platform is a fully automated sample-to-result, real-time PCR (Polymerase Chain Reaction) system that offers accurate, highly reliable molecular information from virtually any biological sample in virtually any setting. Biocartis launched the Idylla™ platform in September 2014. Biocartis is developing and marketing a rapidly expanding test menu addressing key unmet clinical needs in oncology and infectious diseases. These areas represent respectively the fastest growing and largest segments of the MDx market worldwide. Today, Biocartis offers fifteen oncology tests and two infectious disease tests in Europe. More information: www.biocartis.com.