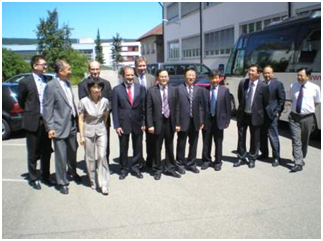 Hospital & Healthcare Management/ Healthcare Pressrelease/ BERCHTOLD/ Shenyang calling investment partners for a newly opened economic zone :-
North-east China wishes to attract foreign high-tech firms. 
Participants to the delegation were among others, the Vice Mayor of Shenyang, the Director of Health Administration, and the Head of the Hunnan Special Economic Zone in Shenyang. Mr. Theo Fritz introduced BERCHTOLD's innovations and presented the Company to its guests. In turn, the Vice Mayor of Shenyang, who led the delegation, informed about the prospects of China's economic development in the coming years. The focus was set on the upcoming infrastructure expansion in China's healthcare system and on the benefits of the Shenyang site, especially for companies in the medical technologies field. Tuttlingen (Germany), 23. September 2010. The chairman of the BERCHTOLD Group, Mr. Theo Fritz (fifth from left), received a delegation from the Chinese city of Shenyang at the headquarters of his company in Tuttlingen. The delegation was on a multi-day European tour to find investment partners for a newly opened economic zone in Shenyang, where mainly European and American high-tech companies should settle, particularly in the medical technologies field. The city of Shenyang, with eight million inhabitants and currently the capital of northeast China's Liaoning province, provides favourable conditions for business such as low land prices, trade discounts, and a well-developed infrastructure.
On the Company
For almost 90 years, BERCHTOLD has been one of the leading developers and manufacturers of sophisticated OP equipment worldwide. The Company offers OP lights, OP tables, cover units, video and camera systems, information and communication systems as well as customized complete OP solutions. In its production, research and development facilities in Germany and the USA, BERCHTOLD employs over 440 people. The company has an efficient worldwide distribution network, with more than nine branches.
Press contact:
BERCHTOLD GmbH & Co. KG
Ludwigstaler Straße 25
D-78532 Tuttlingen
Nicole Schaumburg
Phone:  + 49 (0) 7461 181-207
Fax:  + 49 (0) 7461 181-201
Nicole.Schaumburg@BERCHTOLD.biz
www.BERCHTOLD.biz
Agency:
a1kommunikation Schweizer GmbH
Oberdorfstr. 31A
D-70794 Filderstadt
Dr. Matthias Schweizer
Phone + 49 (0) 711 9454161 0
Fax + 49 (0) 711 9454161 9
info@a1kommunikation.de
www.a1kommunikation.de