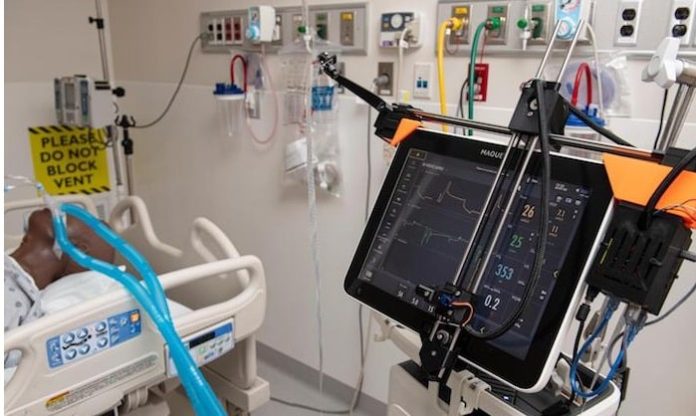 Researchers from Johns Hopkins University and Medicine have developed a robotic system that allows medical staff to remotely control ventilators and other bedside machines from outside the room of patients with infectious diseases.
The system, which is still being tested, was developed at the beginning of the COVID-19 pandemic to help conserve personal protective equipment, limit staff exposure to contagious patients and give more time for clinical work.
The robotic device is attached to the screen of a ventilator. It has a camera connected to the top of the device that sends an image of the screen to the operator outside the room. From there, the operator signals to the system's stylus to carry out commands.
Researchers recently tested the system at the Johns Hopkins Biocontainment Unit and were able to change oxygen percentage and volume delivered by a ventilator attached to a mannequin in an adjoining room.
"This remote-control system will be a force multiplier for our frontline clinicians," said Jonathan Cope, a respiratory therapist who assisted with the project. "Being able to save time to deliver more care to more patients will pay huge dividends when we face massive patient surges during pandemics."
WHY THIS MATTERS
The system was born out of a series of brainstorming sessions between robotics researchers and medical staff from Johns Hopkins and the University of Maryland. Two of the challenges that arose were staffing and availability of PPE.
As more and more infectious COVID-19 patients flooded intensive care units, hospital staff began going through the already limited supplies of PPE since they were required to change protective gear every time they entered the room. In addition, controlling the ventilators, infusion pumps and other supportive equipment took up the critical time of medical staff, according to the researchers.
To overcome those challenges, the research team took the University of Maryland Shock Trauma Center's Sarah Murthi's idea of remotely controlling ventilators through robotics and ran.
THE LARGER TREND
The need to protect healthcare workers from infection, to reserve PPE as much as possible and to save time for medical staff have led to the development of several remotely controlled ventilator projects.
Researchers from UC Berkeley and Stanford University are each developing a remote-operating ventilator system. Specifically, the team from Berkley is working with Medtronic, which deployed its own remote-control system in June.
The Johns Hopkins team is hopeful that this technology could be applied even beyond the current pandemic.
ON THE RECORD
"Whether it's for COVID or the next pandemic, there is always going to be a need for this," Cope said. "It will definitely end up in the ICU environment in the coming years."