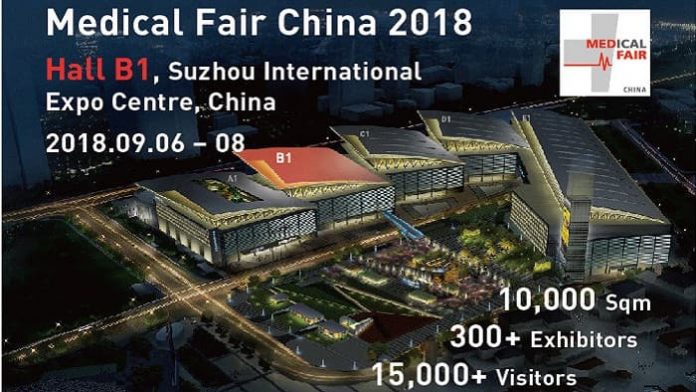 As the only satellite exhibition of MEDICA in China, the Medical Fair China 2018 (MFC) will be held from 6-8 September 2018 in Suzhou International Expo Center. MFC is expected to attract more than 300 exhibitors and over 15,000 visitors. Receiving full support from Suzhou Municipal Government, the exhibition continuously promotes the development of the innovative medical device industry in China.

This year, 2 exhibitor groups and 9 pavilions will meet together under one roof. They are Japanese exhibitor group, innovative and entrepreneurial exhibitor group, upstream raw material pavilion, incubator pavilion, IVD pavilion, ultrasound pavilion, 3D-printing pavilion, implantable and interventional pavilion, industrial park pavilion, university and hospital pavilion and innovation service agency pavilion. The exhibition will facilitate mutual cooperation and provide an excellent opportunity for discussing innovation and development.
In particular, apart from industry leaders such as Suzhou Institute of Biomedical Engineering and Technology, Center for Cardiovascular Innovations, Suzhou Collaborative Innovation Medical Robot Institute, FTR4H, BGI, Philips, and a series of start-ups will make their debut at MFC, making it an event not to be missed.
In addition to well-established companies like Mindray, Boston Scientific Corporation, Medtronic, WEGO, Shenzhen Lifetech, Shinva Medical Instrument, Flon Group, Fosun, ZTE Biotechnology, other major exhibitors include:
Japanese exhibitor group: Medical & Industrial Association, Tsukuba, EPS CHINA Group, S.E.L Co., Ltd., Zephyr Corporation
innovative and entrepreneurial exhibitor group: Koning(Tianjin)Medical Equipment, Symbow Medical Technology, Ltd. Suzhou Baiyuan Gent
Ultrasound pavilion: Shenzhen Mindray, SonoScape, Sonostar, etc.
Optical and electronic products: Wuhan Yage Optic And Electronic Technology, Jiangsu BaiDe, Shenzhen HugeMed
First aid and care products: Suzhou Pulikang, Reasun Singapore
Rehabilitation devices and equipment: VAPO, Jiangsu Saikang, Huangshan Jinfu, Zhangjiagang Braun Industry, Zhongshan Jinli Electronic Weighing Equipment
Laboratory equipment: US&Canadian Hospitality Group Inc, Shenzhen Zhonghe Headway, Porlab, Tianjin Bai Lixin, Jiangyin Binjiang Medical Equipment, Changsha Yingtai Instrument, Runkun Pharmaceutical
Operating room equipment: Sinomech Singapore, Shaoxing Reborn Medical Devices, Nanjing Superstar, Lifepum
Medical digital imaging products: CNC Sail Large International Inc, Nanjing Leonmedical Equipment, Jiangsu MOCOTO Medical Technology, Jiaxing Yingtang Medical Apparatus, Kindson International, Shenyang Shenda Endoacope
Minimally invasive instruments, implantable and interventional medical devices: Ningbo Huaen International Trading, Jiangsu Vedkang Medical Science and Technology
In vitro diagnostic products: Beijing Unidiag Technology, Blue Cross Bio-Medical
Innovative and entrepreneurial pavilion: Koning (Tianjin), BetterLife Medical, Symbow Medical Technology
Upstream raw material pavilion: Changzhou Operson, Foshan Shengyao Electromechanical, Shanghai Yuxing Medical Device, Bio-Mapper Technology, Suzhou Health Plastic Products
Medical consumables: Gerui Medical, Dongguan Hongyuan, Fujian Changgeng, Hangzhou Clongene, Jiangsu Medplus, Jiangsu Pride
University and hospital pavilion: Beijing Jiaotong University, South China University of Technology, Chongqing University, Shenzhen University, Beijing Tian Tan Hospital, the First Affiliated Hospital of Medical School of Zhejiang University, Aviation General Hospital
Industrial park pavilion: Jiangsu Danyang Economic & Technological Development Zone, Guangzhou Development District, Foshan Economic Development Zone, Zhongguancun Medical Device Park Co., Ltd., the High-tech Industrial Park of Taizhou
Pre-registration for five exclusive benefits
Global Device Week Forum Pass ticket for 4 days of unlimited access, value of RMB 1,690 at the ticket office onsite
One free gift (available while stock lasts)
One copy of the official exhibition catalogue (available while stock lasts)
Free access to the forum coffee breaks
Skip-the-line fast entry
Pre-registration procedure I: Visit www.medicalfair.cn for online pre-registration.
Pre-registration procedure II: Follow the Medical-Fair-China official WeChat account, click on the menu bar "Visitor Service" – "Pre-registration of Visitor"
Pre-registration procedure III: Group visit
If the group consists of five people or more, the group leader will obtain a Starbucks card.
If the group consists of ten people or more, the group leader will obtain a Haagen-Das VIP card.
Concurrent Event: Global Device Week –join forces to boost Medical Innovation at Medical Fair China
As a concurrent event, the Global Device Week is expected to attract over 200 guest speakers, 500 industry experts and 2,000 visitors. The three main theme forums: China Medical Innovation Forum, Transformation Medicine and Innovation Service Forum and Device China will contain more than 20 seminars, focusing on cardio-cerebrovascular, imaging equipment, tumor-related instruments, surgery, sub-sectors of orthopedic instruments, medical artificial intelligence, in vitro diagnostics, the commercialization of medical achievements and other innovative directions. The attendees will analyze the cooperation mechanism of the industry, university, research, marketing, medical, service and investment in the medical device innovation ecosystem from different angles, and jointly promote the commercialization of innovative achievements.