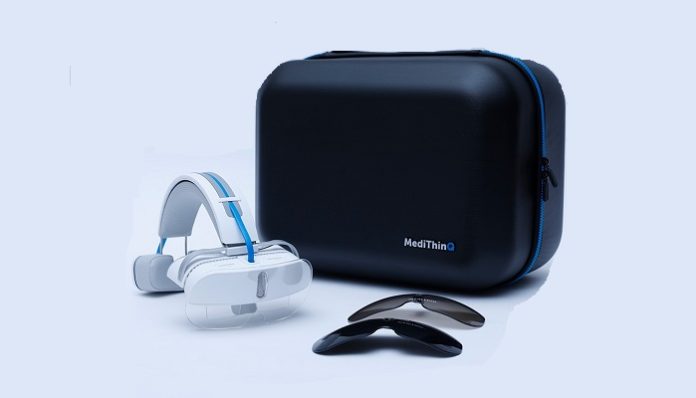 Surgeons regularly rely on monitor images to perform surgery. As such, they must always keep their eyes on both the surgery field and the monitor – meaning that they are constantly turning their heads back and forth. This results in a heavy cognitive load, adjusting the surgeon's attention on a screen and then back on the patient. Additionally, this turning of their head results in discomfort and, sometimes, chronic aching in their necks, eyes, shoulders, and other parts of the body.
So, for surgeons who perform high-risk surgeries on a daily basis, having to turn their head away from the patient to view images on the monitor is a great burden – and it could be dangerous in terms of patient safety.
Enter MediThinQ, a leading medical technology company that manufactures Eyes Up Surgical Displays that allow for free sight and comfortable surgery posture for medical staff. With MediThinQ's Eyes Up Surgical Displays, a major challenge in the medical field which had previously remained unmet has now been solved.
When designing their latest solution, MediThinQ sought an AR display partner that would allow them to build small AR devices with long battery life that could project high-definition images so that surgeons can view both the surgical field and images simultaneously.  Transparency of their system was important, and after examining numerous waveguide-related technologies available on the market, MediThinQ turned to Lumus.
"We knew they would be the best partner because of their advanced technology experience in other medical applications, and the possibility that future technological development would bring," said Jin Lee, Senior Vice President of MediThinQ. "Now, Lumus' AR displays are a key component of our product."
With MediThinQ's solution, featuring Lumus reflective waveguides, surgeons can bring the images of the monitor directly in front of their eyes – eliminating the need to toggle their eyes between the surgery field and a monitor. And, since the solution utilizes wireless technology, they can also have increased mobility, convenience, and efficiency.
"Lumus is proud to be the selected optical engine choice for MedithinQ," said David Goldman, VP of Marketing at Lumus. "Their medical applications are game-changers for operating rooms all over the world. While we wait for consumer AR devices, products like MedithinQ's ScopeEye® and MetaScope® demonstrate the power and utility of augmented reality today."
"The MediThinQ solution allows the entire operating room to have a full view of the surgeon's gaze on a single screen, enabling fast and accurate treatment and enhancement of operation efficiency," Lee said. "Plus, hospitals can benefit from saving on operating time and costs associated with the surgery. By replacing bulky monitors with our solution, they can use their operating room space more effectively."
MediThinQ's AR solutions are already making waves in the medical community. According to Lee, customers have already relayed the benefits of AR glasses in the surgery room. "During laparoscopic surgery, there were many times where the assistant medical staff had to forcefully help change the patient's position or posture while examining the surgery field, but the burden on staff was greatly reduced by wearing smart glasses," Lee added. "Plus, during rectal surgeries, smart glasses enabled the team to continue suturing while looking at their surroundings."
Medical teams reported that the image brightness worked well, and image quality did not decrease from the  normal monitor resolution – so they did not feel any discomfort relying on the new solution in a high-pressure environment. Plus, in long term surgeries that lasted more than six or seven hours, surgeons noticed a more comfortable posture and vision due to not having to look back and forth to the monitor.