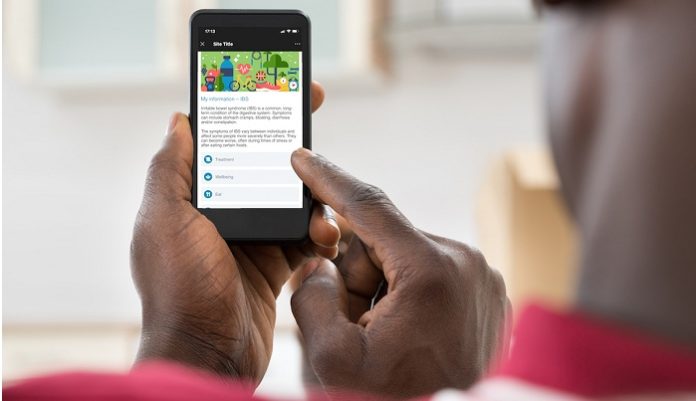 NHS Tayside is launching a new app in partnership with Inhealthcare to help people suffering from IBS. The new app has been funded by the Scottish Government's Technology Enabled Care Programme and the Modernising Patient Pathways Programme.

The app will help people to track their symptoms over time and identify any changes. They can request extra support from dietitians via the app when needed.
The service aims to reduce the time taken for people to start receiving specialist advice and support. If they have not shown any signs of improvement after four weeks on the service, they can request further support from the dietitian and move onto the next stage in the management pathway.
LIVI AND NORTH TYNESIDE CCG PARTNERSHIP
The UK arm of European digital healthcare provider, Livi, has partnered up with North Tyneside CCG. This move will enable almost a quarter of a million people across the North East of England to have access to a doctor online, via the NHS.
The app enables patients across North Tyneside to request an online video appointment with a GP, seven days a week. Patients can also access medical advice, referrals and prescriptions within the app, without having to de-register from their GP surgery.
North Tyneside CCG's partnership with Livi, is facilitated under the Alternative Provider Medical Services contract framework.
All 25 practices within North Tyneside have entered into the contract, offering digital appointments via Livi's app, which is available to download from the App Store and Google Play.
ONLINE STI PLATFORM RECEIVES OVER 5000 REQUESTS
Public Health Wales, the sexual health services of the health boards and Signum Health are delivering a Welsh government funded scheme called Test and Post.
Accessed via the Frisky Wales website, the STI platform was created specifically for Public Health Wales and was piloted before the COVID-19 outbreak, but it has now been rolled out to all health boards in Wales.
Patients fill out a questionnaire online with their details and concerns and can then choose to receive a home test kit which they can use in the privacy of their own home. It offers tests for chlamydia and gonorrhoea and for HIV, syphilis and hepatitis B and C.
In the six weeks since its introduction at the end of May, the platform received 5,139 home kit order requests.
DIGITALHEALTH.LONDON FELLOWSHIP OPENS FOR APPLICATIONS
DigitalHealth.London has opened applications to its Digital Pioneer Fellowship programme, supporting individuals employed by NHS organisations in London to design and lead transformation projects related to digital innovation.
Now in its third consecutive year, the 12-month programme provides up to 30 Fellows with the opportunity to be part of a learning community focused on accelerating the pace of digital transformation within their respective NHS organisations.
The individuals taking part have access to workshops, resources and events throughout the year to share challenges and experience, learn from experts and collaborate to co-design solutions.
ENDER DIAGNOSTICS LAUNCHES SECOND CE-CERTIFIED COVID-19 TEST
Swiss-based company, ender diagnostics, which specialises in the development of molecular biological tests, has launched ender MASS, its second CE-marked test to detect SARS-CoV-2.
ender MASS provides results from a nasopharyngeal swab in 30 minutes and is designed to enable diagnosis for critical settings including schools, manufacturing facilities, travel, hospitals and care homes. It also aims to enable centralised laboratories to accelerate and increase throughput. The test has a US FDA clearance anticipated in September 2020.
THRIVA LAUNCHES THE BLOOD TEST WITH NO BLOOD
Proactive health tech company, Thriva, has launched its service to give people a benchmark on their blood results, without having to do a test.
People are asked to fill in a short questionnaire about their lifestyle habits and medical history. Using machine learning, this information is compared to 800,000+ anonymised blood results to predict results for 12 different tests with 95% accuracy.
Predictions come with an estimated range on where the individual's result sits — normal, abnormal or optimal. The Predicted Results service has been developed by Thriva's in-house doctors and data scientists using machine learning and an anonymised data set of tests completed by existing customers.
THIRONA PARTNERS UP WITH SMART REPORTING FOR COVID DETECTION
Dutch AI company, Thirona, has partnered up with German digital health company, Smart Reporting, to launch the SmartCAD | COVID-19 software.
This platform combines Thirona's CAD4COVID-CT algorithm with the COVID-19 reporting template developed by digital health company, Smart Reporting.
The new system enables direct analysis of chest CT images with CAD4COVID-CT and transfers the results into a structured report.
The output includes a COVID-19 severity score on lung and lobar level, the percentage of abnormalities detected for each lobe and the lungs, and the percentage of lobar emphysema.
PATHWAY THROUGH PAIN MAKES IT INTO NHS APPS LIBRARY
UK-based mobile mental health company, Wellmind Health, has announced that its digital Pain Management Programme (PMP), Pathway through Pain, has successfully completed the assessment process for inclusion in the NHS Apps Library.
The NHS Apps Library helps patients and the public find trusted health and wellbeing digital tools that have been assessed to be clinically safe and secure to use. Pathway through Pain is already provided to patients across the UK through GP Surgeries, Pain Clinics, IAPT and Community Health Services.